The menopause symptoms
Some symptoms are well known and others can come as a bit of a surprise. Here are 38 symptoms of the menopause that you may experience (in alphabetical order).
| | | | | |
| --- | --- | --- | --- | --- |
| Altered skin sensation | Anxiety | Bladder infections | Body odour | Brain fog |
| Breast tenderness | Breathing difficulties | Burning mouth | Changes to nails | Changes to taste and smell |
| Dental issues | Depression | Difficulty concentrating | Dizziness | Dry eyes |
| Dry mouth | Fatigue | Fertility issues | Forgetfulness | Hair changes |
| Headache and migraines | Heart disease | Heart palpitations | Hot flushes | Joint pains |
| Lack of motivation | Loss of confidence and self-esteem | Loss of sex drive | Mood swings | Muscle aches and pains |
| Night sweats | Osteoporosis | Period changes | Skin changes | Sleep issues |
| Vaginal dryness | Vaginal irritation and itching | Weight gain | | |
You can read more about these 38 menopause symptoms here.
The reported incidence of the symptoms of the menopause can vary depending on the source used, and more data exists for some symptoms than for others. That said, we thought it useful to share the following data from an online survey conducted with women aged 45-65 by the British Menopause Society as it gives a good overview of the symptoms that are more/less frequently reported by women. On average, women reported experiencing seven different symptoms.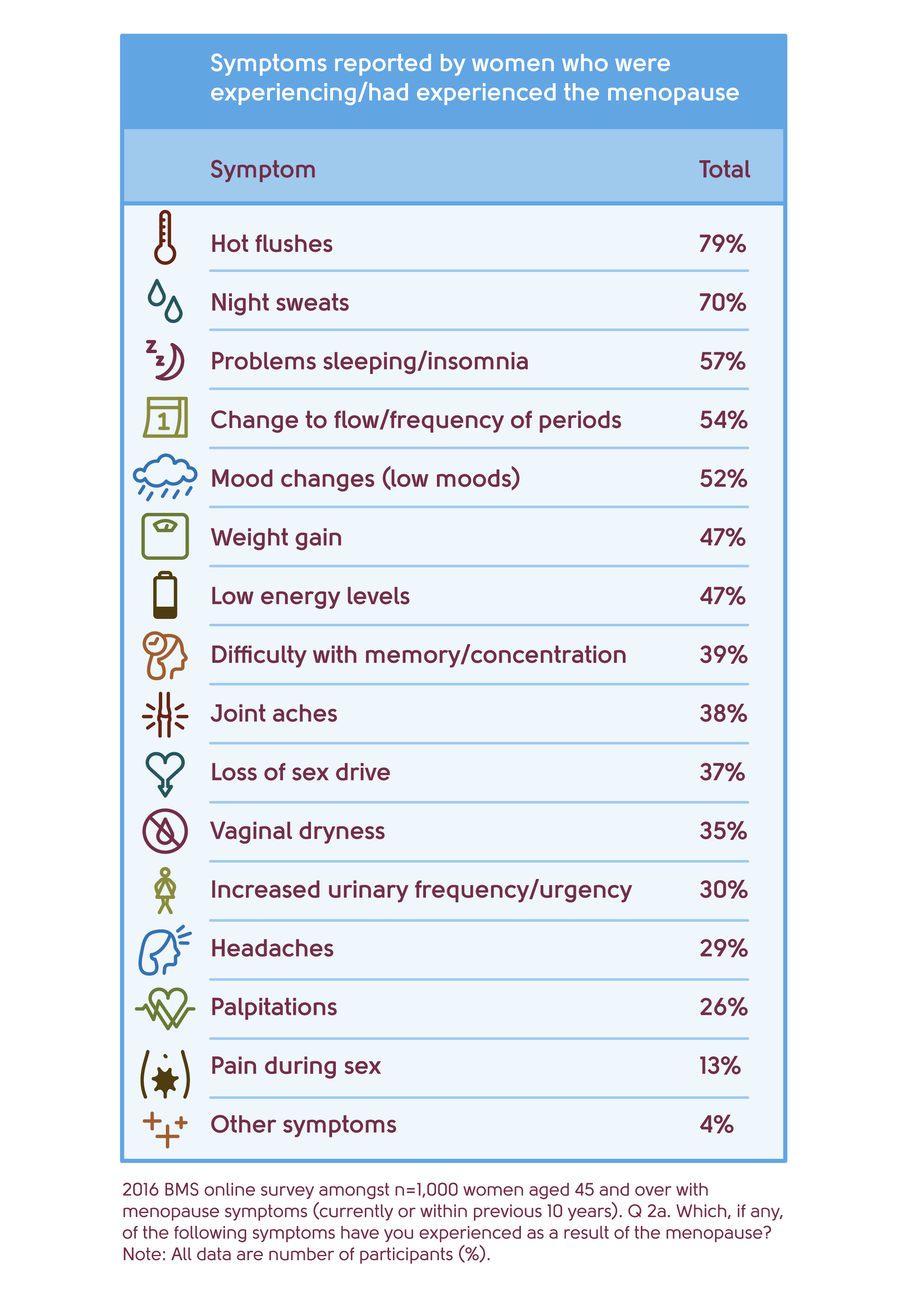 Here's an overview of the symptoms we get asked about most often.
Hot flushes and night sweats
Some of the most common symptoms are hot flushes and night sweats. You might experience sudden feelings of heat when drinking hot drinks or walking into a warm room, making your internal thermostat shoot right up. On average, women experience hot flushes for around seven years but they can last for much longer.
I treat women in their 40s, 50s, 60s, 70s and 80s who are completely fed up with the fact that they are still having hot flushes, some for many, many years. Hot flushes can also disturb sleep and make symptoms of tiredness, depression and anxiety worse.
Dr Clare Spencer, Co-Founder of My Menopause Centre
Read more about hot flushes and night sweats and how to treat them.
Anxiety
Anxiety can creep up and leave you feeling irritable and stressed in a way you never were before. Many women don't realise that anxiety is a symptom of the menopause and instead think they're suffering from stress. They may start antidepressants when Hormone Replacement Therapy (HRT) can be more effective.
Women have told me that suddenly they feel too anxious to go out and meet friends or stand up and give a presentation in the way they used to.
Dr Clare Spencer, Co-Founder at My Menopause Centre
Read more about anxiety and how to treat it.
Depression
You might feel generally low, lethargic and have little interest in activities you would usually love.
Many women struggle on for years and, as with anxiety, thinking they are depressed or unhappy in their life, not realising that menopause could be the root of the problem. The menopause can also increase the likelihood of depression if you've had it before.
Some women may give up jobs or relationships, thinking they're the cause rather than the result of being impacted by the effects of low oestrogen in the brain. They may start taking antidepressants, but HRT may be more effective.
If you need help with depression, mental health charity Mind is a great place to start. You can also read our resource about depression and how to treat it.
Brain fog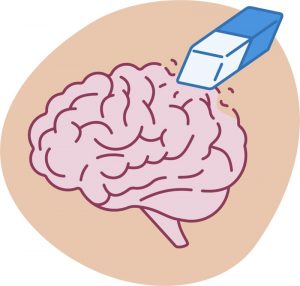 The dropping oestrogen levels that are behind so many menopause symptoms affect brain function too. Lots of us start to experience brain fog, memory issues, and difficulty with remembering words and names. We've heard women tell us they think they have early dementia, and getting stressed and anxious about these symptoms can make some of us fear that we can't carry on at work or in other vital areas of life.
I have met women who have given up jobs they love, or changed to part-time because they feel that they can't function as they used to. Effective menopause management can prevent this from happening.
Dr Clare Spencer, Co-Founder at My Menopause Centre
Read more about brain fog and how to treat it.
Sleep
Lack of sleep can be caused by physical and psychological symptoms linked to the menopause, such as night sweats, anxiety or middle-of-the-night toilet visits. Sleep patterns also change as we grow older, so not all poor sleep is down to the menopause.
For many women, this is one of the most challenging symptoms. Getting this sorted with proper treatment can have a positive impact on other symptoms too, such as anxiety and brain fog.
Read more about sleep issues and how to treat them.
Aches and pains
Many women start to get aches and pains in their joints, and this is sometimes misdiagnosed as arthritis. To make matters worse, these symptoms can leave us feeling less than enthusiastic about exercise, which means we lose muscle mass and condition, and can put on weight.
Read more about joint pains and how to treat them.
Weight gain
Weight gain is another common issue in the menopause. The causes are complex – it's not all about hormones, genetic factors can be important too.
Many women find that fat is redistributed to their middle area, so you may feel that you have gained weight, but it's actually a change of shape as you turn from a 'pear' to an 'apple.' You are also more prone to lose muscle in the menopause – particularly if you stop exercising – meaning you need fewer calories than you did before.
On top of all this, it's easy to start eating and snacking for emotional reasons. Some women also drink more alcohol – which is full of empty calories – in the menopause to try to sleep or to deal with stress.
Read more about weight gain and how to treat it.
Changes in sensation
The menopause can result in your body experiencing strange sensations. For some, it's tingling and numbness of hands and feet, for others it's the sensation of insects crawling on the skin. Changes to your nervous system can also result in dizziness of varying degrees. It's not uncommon for you to experience changes to taste and smell too.
Read more about altered skin sensation, dizziness, burning mouth and changes to taste and smell.
Changes in appearance
Some women experience a thinning of hair caused by a change in the balance of male and female hormones in the body. Dental issues can also be a problem for some.
The menopause can also cause a decrease in the quality of collagen in the body, which means skin can start to look 'saggy' and result in more wrinkles.
The skin can also be affected in other ways. Some women get a second wave of acne (it's not just teenagers), and some develop a condition called hirsutism, where hairs begin to grow on the face, breasts and chest.
Dryness is a fairly common symptom and can be experienced in many areas of the body. The most common are the eyes, skin and mouth. Dry skin can be itchy and irritable. The transition can even cause changes to your nails.
Read more about hair changes, dental issues, skin changes, dry eyes and nail changes.
Vaginal, vulval and bladder symptoms
Your body uses oestrogen to keep the tissues of the vulva, vagina and bladder healthy, so fluctuations in hormone levels can cause symptoms in these areas. As with the eyes, mouth and skin, the tissue of the vulva and vagina becomes dry and more delicate. This can make sex painful for some.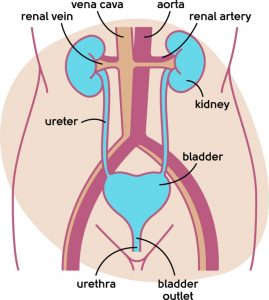 Again, you might not be surprised to hear that it's a loss of oestrogen in the tissue of the bladder that causes less-than-pleasant symptoms. These include pain passing urine and needing to go more often (especially in the middle of the night). Infections are also more likely during the menopause.
Read more about vaginal dryness, vaginal itching and irritation, bladder symptoms and bladder issues.
Lower sex drive
A recently published survey of women aged between 45 and 65 found that up to 40-50% lose interest in sex as they pass through the perimenopause, menopause and beyond[1]. For some, the desire for sex and the experience of pleasure during sexual intercourse can diminish. There are a few reasons for this:
Drop in hormones with their physical and psychological impact

Vaginal dryness and discomfort

Rise in urine infections after sex
Throw in juggling a busy life along with these menopause symptoms and it's not surprising that low libido is experienced by many.
But, as ever, it's important to remember that we all experience the menopause differently and some women say that their menopause improves their sex drive – as children leave home and they have more time for themselves and their relationship.
Read more about how the menopause can impact your sex life and what to do about it.
Breast tenderness
Breast tissue is sensitive to hormones, and you may experience breast tenderness, pain, burning or soreness as you transition through the perimenopause and the menopause. It's likely to be the changes in the hormones oestrogen and progestogens (for example, progesterone) that are responsible for symptoms.
Breast pain and tenderness are not common signs of breast cancer but always speak to a doctor about any breast changes.
Please see a doctor if you notice any of the symptoms of breast cancer:
A breast lump
An area of thickened breast tissue that is new
Breast skin changes like dimpling
Nipple changes or nipple discharge
A lump or swelling in either of your armpits
Read more about breast tenderness and how to treat it.
Fatigue
Fatigue and tiredness are common symptoms of the menopause. You may find that you feel exhausted and worn out or unable to do what you used to. Fatigue in itself can make you feel low and set up a vicious cycle of lack of energy.
You may not not be sleeping, leaving you feeling tired in the day. This might be due to physical symptoms like hot flushes and night sweats, muscle aches and pains and needing to go to the toilet at night.
Stress and anxiety can also keep you awake at night making it difficult to switch off. The menopause hormone changes can also interfere with sleep.
Read more about fatigue and how to treat it.
Fertility issues
For most of us, our fertility starts to decline around the time we turn 30, decreasing more significantly over the age of 35.
In the perimenopause, fertility drops again, but the chance of pregnancy is not zero – so you still need to use contraception if you don't want to get pregnant.
In your 50s, fertility continues to decrease, and at the age of 55, you can stop using contraception even if you are still bleeding.
There are more specific guidelines about stopping contraception for younger women, which you can read in our guide to contraception. If you are experiencing premature menopause (premature ovarian insufficiency – POI), and you want to have a baby, you should ask for a referral to a specialist fertility clinic where appropriate advice and support can be provided.
Some women with POI do conceive naturally as there is a small chance that the ovaries will start working again, particularly if no cause of premature menopause has been found.
Read more about fertility issues and how to treat them.
Headaches
Headaches can become more common in the perimenopause and the menopause. If you have experienced headaches relating to your monthly cycle throughout your life, you may find that you have more of them during the perimenopause. It is likely to be linked to swings of hormones.
Migraines can also start out of the blue in the perimenopause. If you suffer from migraines – and again, particularly if they are related to monthly cycles, they can get worse in the perimenopause.
After the menopause, when hormone levels settle, migraines can get better – although this can take several years. If the migraine triggers are not hormones, they can persist after the menopause.
Read more about headaches and how to treat them.
Heart palpitations
Palpitations, where you feel your heart skipping beats, are common for some women during the menopause. They usually last just a few seconds and settle by themselves. You may experience them during hot flushes, and it won't be a surprise to learn that it's the changing hormone levels that are responsible for them.
Find out when to see a doctor and read more about heart palpitations and how to treat them.
Changes to periods
In terms of periods and bleeding, our advice is to expect the unexpected.
For some women, periods continue as normal and then suddenly stop. For most women, however, periods become more irregular as they pass through their 40s in the perimenopause.
Periods can become more spaced out, and you may miss the odd one or two, then suddenly have one again. You may notice that instead of four-weekly cycles, you change to five- or six-weekly cycles – and this can change too.
Your periods can become more problematic – closer together or heavier. Speak to a doctor if they are bothering you, and always speak to a doctor if you have bleeding in between periods, if periods become significantly heavier, or if there is bleeding after sex.
Read more about changes to periods and how to treat them.