What is dizziness?
Dizziness is a symptom that can mean different things to different people. Many women use it to describe feeling lightheaded as if they've stood up too quickly. To others, it means the world feels like it's spinning around them (also known as vertigo).
What causes dizziness?
If you experience lightheadedness or the feeling that you will faint, it could be due to the impact of the oestrogen changes in your body, on your nervous system or cardiovascular system.
Some of the main things that can cause dizziness are:
Stress
Swings in blood sugar levels
Aside from symptoms caused by the menopause, dehydration, migraine, sinus infections, medication, and low blood pressure can also cause dizziness or loss of balance.
How many women typically experience dizziness?
Menopause-related dizziness is common and is reported by up to a quarter of women as they transition through the menopause[1].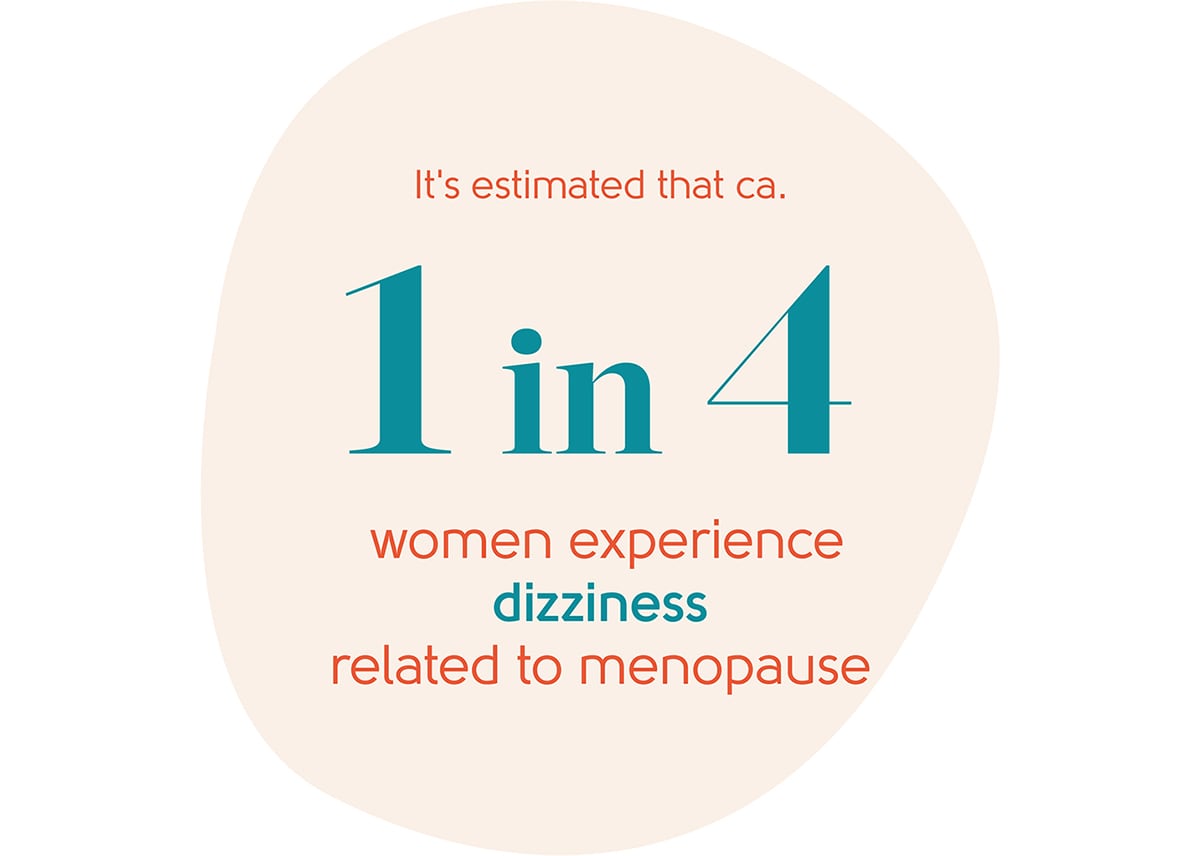 Is dizziness linked to any particular stage of the menopause?
Depending on the cause, dizziness can start at any time in the menopause transition. Like most symptoms, it should settle in time and will usually decrease after you have gone through the menopause.
How can dizziness be treated?
The first step is to discuss your dizziness with your GP to see if further investigation is needed.
It is particularly important to see your GP if:
You're worried about your dizziness or vertigo
It will not go away, or it keeps coming back
You're finding it harder to hear
There's ringing or other sounds in your ears (tinnitus)
You have double vision, blurred vision or other changes in your eyesight
Your face, arms or legs feel numb
You have other symptoms like fainting, headaches, feeling or being sick
You have shortness of breath or chest pain
Strategies to help your dizziness include:
If the dizziness is related to the menopause alone and you have other symptoms of the menopause, you may want to try Hormone Replacement Therapy (HRT), after weighing up the benefits and small risks with your GP. You can find out more about HRT here.
What next?
If you're experiencing dizziness, lightheadedness, blurred vision, shortness of breath or chest pain, you should see your GP. If other causes of your symptoms have been excluded and you would like to discuss your symptoms in the context of the menopause, book an appointment with our menopause clinic.
If these symptoms are new and severe, you may need to access emergency medical care by calling 999.
If you think you may be experiencing symptoms of the menopause transition, you can learn more with our symptom checker or by taking our Menopause Questionnaire.
You can also find more information about the menopause transition at the British Menopause Society and the National Institute for Health and Care Excellence.