What are menopause-related skin changes?
How our skin looks and feels can play a large part in how good we feel about ourselves, especially during a turbulent time like the menopause transition. Because our skin changes as we age, what we're experiencing may not all be hormone-related.
During the menopause, you may develop the following changes in your skin:
Drier and more sensitive
Thinner and more prone to damage and bruising
More wrinkles
Longer healing
Acne
Hairs appear on your face
Menopausal flushing
What causes skin changes during the menopause?
Many skin changes during the menopause are the result of a drop in oestrogen. They can also be the result of exposure to environmental factors, such as sunlight and smoking, as well as the effects of ageing.
A drop in oestrogen results in lower levels of hydrophilic glycosaminoglycans. In plain English, this means your skin holds less water, making it drier and less elastic.
A drop in oestrogen also changes the collagen in your skin. Collagen is a protein and one of the main building blocks for bones, skin, hair, muscles, tendons and ligaments. It keeps our skin from sagging, giving us that plump and youthful look.
There is a strong connection between skin collagen loss and oestrogen deficiency due to the menopause. There's a significant loss of collagen in the first few years after the menopause transition.
As oestrogen decreases, collagen starts to break down and skin loses its 'strength', which can mean that our tiny blood vessels are less protected and are more likely to bleed and bruise, and skin is more vulnerable to damage. 
Acne and extra hairs on the face (hirsutism) can occur because the balance of oestrogen and male hormones (androgens) starts to change when your oestrogen levels drop. 
Greater levels of androgen increase the amount of grease or oils in the pores of the skin. This can cause bacteria to overgrow, resulting in acne-like spots. 
Rosacea is a skin condition where you may also experience acne-like pustules, dilated blood vessels, and itchy rims around the eyes. This can flare up in the menopause. It's not clear why, although some women experience flares as a result of hot flushes and stress.
How many women typically experience skin changes?
Up to 50% of women may experience skin changes that are connected to the menopause[1].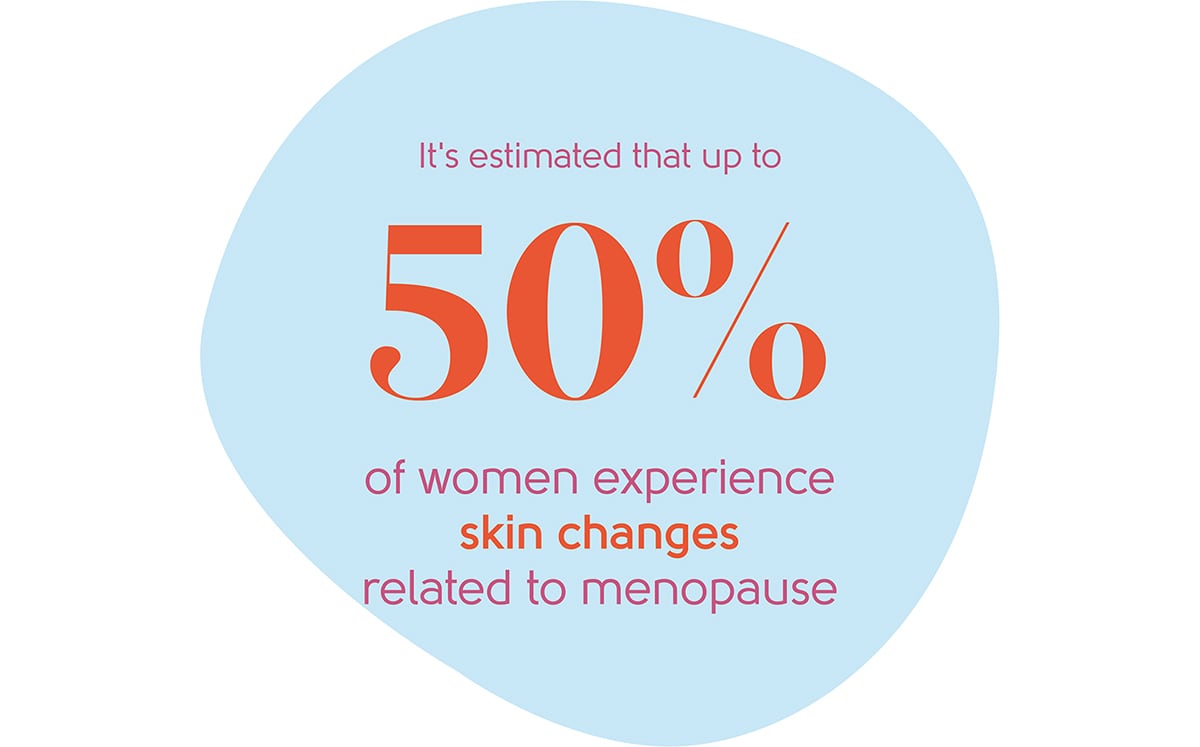 Are skin changes linked to any particular stage of the menopause?
Skin changes can occur at any stage of the menopause, as hormone fluctuations start from the earliest stage of the perimenopause.
These hormone-related changes may settle during postmenopause as oestrogen levels become permanently low. Of course, the skin effects of ageing will continue.
How can skin changes be treated?
Here are some general tips that may help. Don't forget that any new skin changes should be discussed with your doctor or a dermatologist:
Moisturise your skin twice a day if you can
Make sure your skin is protected from the sun by wearing a high SPF every day
If you smoke, try to stop. The NHS has some great advice.
Avoid soap, which generally dries the skin by stripping away natural oils. Use soap substitutes or gentle moisturising facial cleansers instead
Drink plenty of water to keep well hydrated
Get plenty of sleep so that you are well-rested
If acne is an issue for you, there are skin preparations designed to help – speak to a pharmacist or your doctor
If rosacea becomes a problem, there are treatments your doctor can prescribe that can help
Extra hairs can be plucked, waxed or lasered. Speak to your doctor if they're causing distress or becoming more frequent, dense, and severe
See your doctor or another healthcare professional or pharmacist if you suspect you have a fungal infection, as antifungal creams can help
Sun damage changes may be more cosmetic, but any skin changes or changes in pre-existing skin lesions should be discussed with your doctor, as sun damage can increase the risk of skin cancer
Skin changes and Hormone Replacement Therapy (HRT)
HRT replaces your falling oestrogen levels and may prevent some of the changes that occur after the menopause. There is evidence that HRT can increase skin collagen and skin thickness, as well as reducing skin wrinkling[2].
In the long term, HRT may have a beneficial effect on skin ageing and your skin's repair mechanisms. It's important to know that there isn't much published work to prove this. As ever, before you decide to take HRT you should discuss the benefits and risks with your doctor – taking HRT for the benefits of skin only is not a licenced indication.
Sometimes the progestogen hormones in HRT are related to androgens – male hormones. Some women also use androgen testosterone alongside HRT. One of the side effects of androgens is acne-like skin changes and greasy hair. If you experience this, speak to your doctor, as the hormones can often be changed to less androgenic alternatives.
What next?
If you're troubled by skin changes, talk to your doctor or dermatologist. If you would like to discuss your symptoms in the context of general management of menopause symptoms, book an appointment with our menopause clinic,
If you think you may be experiencing symptoms of the menopause transition, you can learn more with our symptom checker or by taking our Menopause Questionnaire.
You can also find more information about the menopause transition at the British Menopause Society and the National Institute for Health and Care Excellence.