What are bladder infections?
Bladder infections – or urinary tract infections (UTIs) – are common during the menopause and are caused by a bacterial infection in the wall of the bladder.
Around two-thirds of all women will experience a bladder infection in their lifetime, the frequency increasing with age. Studies have estimated that around a third of women experience recurrent urine infections and incontinence related to the menopause.[1]
Dr Clare Spencer, Co-Founder of My Menopause Centre
The symptoms vary, but can include:
Pain and burning when you pass urine
Increased frequency of passing urine
Night-time urination
Having very little urine to pass
Pain when you finish urinating
Lower pelvic pain and discomfort, or aches and pains in the lower back
Blood in urine
Urinary incontinence
Feeling hot and feverish, headachy and sick
Pain in the 'loins' – the area at the back at around waist level – if the infection has spread up towards your kidneys
All things considered, having a bladder infection is not much fun. A high temperature and feeling unwell may indicate a more severe infection. A high temperature and more severe loin or back pain can indicate a kidney infection. If either of these happens, seek urgent medical treatment from your GP, or call NHS 111.
What causes bladder infections?
The bladder drains out through an outflow called the urethra (see the illustration below). Your urethra needs oestrogen to keep the tissue healthy. As the menopause causes your oestrogen levels to decrease it can cause these issues:
The urethra can become more delicate and prone to infection.
The urethra can shorten, making it easier for bacteria to get into your bladder.
The supports of your bladder and urethra can also weaken, so that your bladder sometimes may not empty fully when you go to the loo. The urine left behind can become prone to infection.
You may also get bladder infections after sex.
How many women typically experience bladder infections?
Bladder infections are common for women in the menopause transition[1].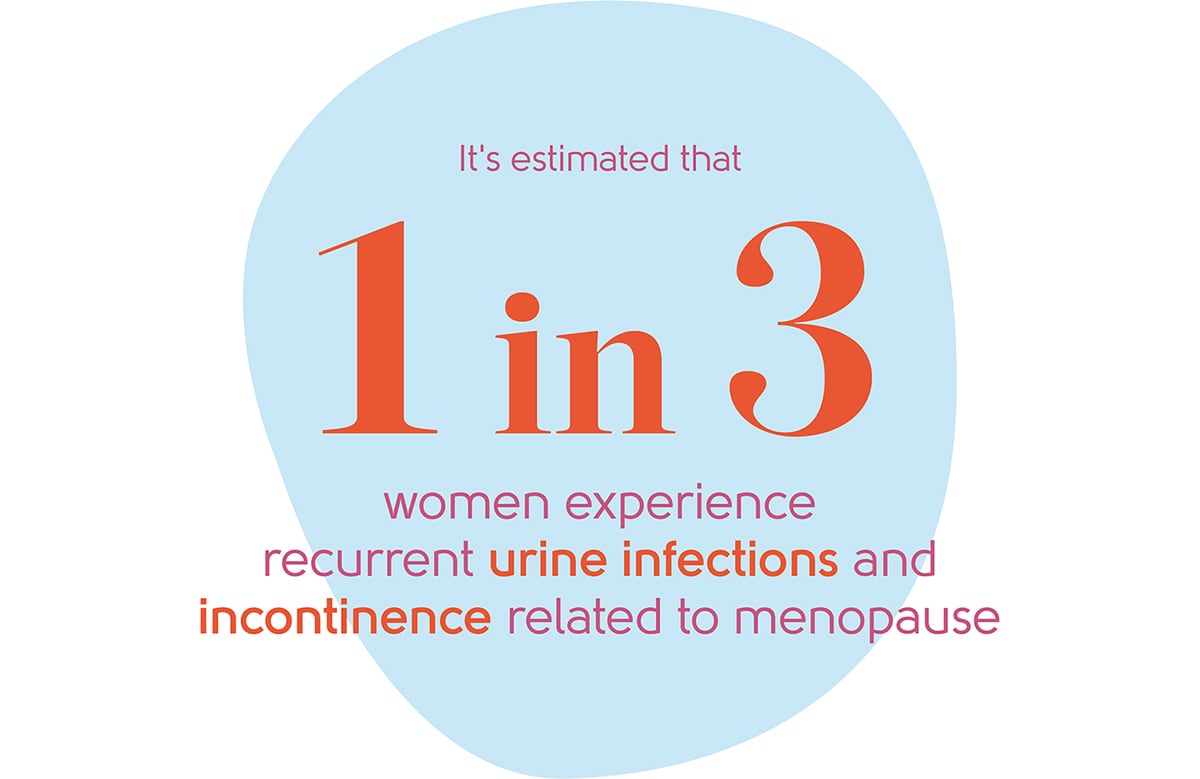 How can bladder infections be treated?
A few simple practices can help keep bladder infections at bay. The first is making sure you drink plenty of fluids during the day. The second is to wipe from front to back after using the toilet to avoid spreading bacteria. If you do develop a UTI, there are a few ways they can be treated.
Speak to a doctor
Your doctor can carry out a simple urine test or send a sample to the lab to check for bacteria. Some mild bladder infections get better by themselves if you drink plenty of fluid, but some will need a course of antibiotics.
Antibiotics
Bladder infections may need antibiotic treatment from your doctor, especially if you're feeling unwell or have a fever.
Recurrent bladder infections may need a low dose antibiotic to keep them at bay. Other treatments are available, so don't hesitate to speak to a doctor about your symptoms.
Sometimes you may need to take a low dose antibiotic after sex. Emptying your bladder after sex can also help reduce the risk of a bladder infection.
Hormone Replacement Therapy (HRT)
Where bladder symptoms are caused by urogenital atrophy (changes in the tissue of your bladder, urethra and vagina caused by lack of oestrogen), you may be offered HRT. HRT contains oestrogen, which helps improve the bladder and urethral tissues that have been made more delicate by the menopause. This can also help prevent bladder infections.
If you have other symptoms of the menopause, systemic HRT (patches,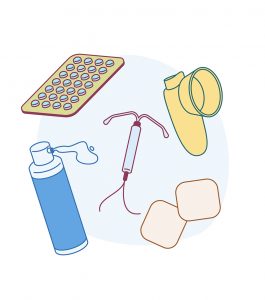 tablets, gels and sprays) can be helpful. If your symptoms are related to the bladder and/or vagina only, you may prefer to use a vaginal oestrogen only.
Around a quarter of women who use systemic HRT need to use a vaginal oestrogen too[2].
You can read more about HRT here.
Vaginal oestrogens
Another way to boost your oestrogen levels is through taking oestrogen in the form of a cream, pessary or ring, all of which are used on the vagina. This type of treatment can be prescribed by your doctor.
'Vaginal' or 'topical' oestrogens can also help other menopause symptoms like vaginal irritation and dryness, and painful sex. Here are the different types of vaginal oestrogens available:
| | |
| --- | --- |
| Vagifem TM | Tiny pessary of 10mcg oestradiol with single use applicator for each pessary. |
| Vagirux TM | Tiny pessary of 10mcg oestradiol with 1 applicator for re-use. |
| Gina TM | Tiny pessary of 10mcg oestradiol with single use applicator for each pessary – available to buy over the counter for women who meet set criteria. |
| Imvaggis TM | Small pessary of 0.03mg oestriol. No applicator – you insert it yourself into the vagina. Melts, which some women find moisturising. |
| Ovestin cream (Estriol 0.1%) TM | Cream containing oestriol 1mg/g. Comes with a washable applicator, but you could measure out the applicator dose and use your finger instead. |
| Estriol 0.01% cream | Cream containing 0.01% oestriol. Comes with a washable applicator, but you could measure out the applicator dose and use your finger instead. |
| Blissel TM | Gel containing 50mcg/g oestriol. The lowest dose of vaginal oestrogen. This comes with an applicator. |
| Estring TM | A flexible ring that delivers 7.5mcg oestradiol per 24 hours that is fitted into the vagina, releasing oestrogen for three months. You can still continue to have sex with this fitted. |
Gina
Gina is essentially the same as Vagifem and Vagirux – 10mcg oestradiol pessaries with an applicator to help insert them. There are more restrictions in place to buying Gina over the counter than there are to getting the same medication on prescription from your doctor. Gina is available to buy to help manage vaginal symptoms of dryness, soreness, itching, burning and painful intercourse if:
you are 50 years or older
your period stopped more than 1 year ago
If you are already taking systemic HRT (for example HRT in patches, gel, spray or tablet form), the pharmacy can only sell you Gina if you have already been prescribed it by your doctor or if your doctor has confirmed that you are suitable to use an additional vaginal oestrogen.
If you are under 50, still having periods or it is less than a year since your last period, or if you are taking HRT, it is likely that you will still be able to use a vaginal oestrogen, but you would need to talk to your GP about your symptoms to obtain this on prescription.
You can find more information on Gina here.
Things to know about vaginal oestrogens:
Treatments may take at least three months to work. If your symptoms don't improve, always speak to a doctor.
Vaginal oestrogens don't affect your risk of breast cancer. The amount of hormone you absorb is tiny.
There is no risk of blood clots, stroke or heart disease.
You can use a vaginal oestrogen for as long as you need, but you should have a yearly review by your doctor.
When you stop using the treatment, your symptoms may gradually return and you may need to restart using it again.
You may get more vaginal discharge when using a vaginal oestrogen.
What next?
If you're worried about bladder infections, you should see your GP. To talk about bladder symptoms in the context of the menopause, book an appointment with our menopause clinic.
If you think you may be experiencing symptoms of the menopause transition, you can learn more with our symptom checker or by taking our Menopause Questionnaire.
You can also find more information about the menopause transition at the British Menopause Society and the National Institute for Health and Care Excellence.