What is burning mouth syndrome?
Burning mouth syn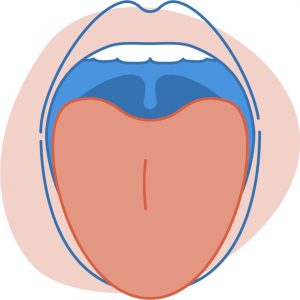 drome (BMS) is a burning or scalding sensation in the mouth that can affect your gums, tongue, lips, the inside of your cheeks, or the roof of your mouth. It can even affect all of these areas at once, as well as your sense of taste.
This lesser-known, rather peculiar symptom of the menopause is one you may not have heard about. The sensations may occur all the time or can come and go. It can be accompanied by a dry mouth and changes in your sense of smell and taste.
What causes burning mouth syndrome?
Burning mouth syndrome is not well understood, and its cause is often unknown. Like so many other menopause symptoms, it can be linked to loss of oestrogen – as can other changes in the mouth, including dryness and changes in your sense of taste and smell.
Burning mouth can also be linked to other medical conditions and lifestyle choices that can affect oral health, including:
Mouth infections
Allergies
Acid reflux
Some medication
Diabetes
Underactive thyroid disease
Drinking acidic drinks
Over-brushing when cleaning your teeth
Some psychological conditions like anxiety, depression, and stress
Underlying nutritional deficiencies like lack of iron and vitamins B1, B2, B6, B9 and B12
How many women typically experience burning mouth syndrome?
This is an uncommon symptom and often is not linked to the menopause. One study has suggested that up to a third of women may experience it[1].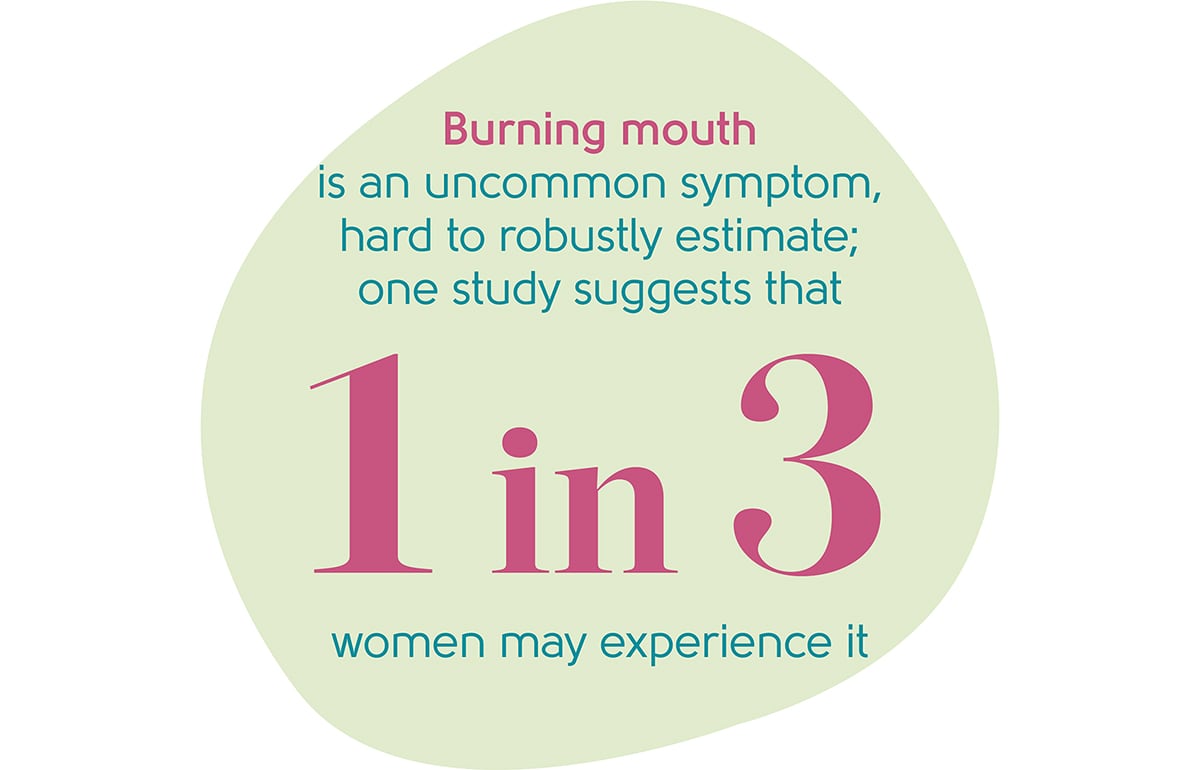 Is burning mouth syndrome linked to any particular stage of the menopause?
If the burning feeling in your mouth is linked to loss of oestrogen during the menopause, it could potentially occur at any stage, but there's no evidence to confirm this.
How can burning mouth syndrome be treated?
Unfortunately, there's currently no known way to treat burning mouth syndrome. Nevertheless, there are things you can do that may help reduce your discomfort or stop it from getting worse.
Stop smoking
This will also reduce your breathing difficulties and your risk of cancer. If you would like help to quit, the NHS is a great place to start.
Avoid certain foods
Cutting down on tea and coffee, acidic and spicy foods along with fizzy drinks may help.
Cognitive Behavioural Therapy (CBT)
If you're worried about physical symptoms like a burning sensation in the mouth, this can make the pain feel worse as you focus on that part of your body and worry even more. Cognitive Behavioural Therapy can challenge negative thinking and help you break out of the vicious cycle.
You can learn more about our CBT partners Sue and Claire here.
Hormone Replacement Therapy (HRT)
There's a lack of evidence about whether HRT can help or not. If you take HRT for other reasons, there's a chance it may help, but right now we don't have enough evidence to say for sure whether this will work for you or not.
Speak to a doctor or dentist
Speak to a doctor or dentist about the symptoms of burning mouth syndrome, as there is medication that can help manage the pain or help your dry mouth – see our information on dry mouth and what to do about it.
What next?
If you're worried about burning mouth syndrome, especially if you're experiencing chronic pain, you should see your GP. If you would like to discuss your symptoms in the context of the menopause, book an appointment with our menopause clinic.
If you think you may be showing signs of the menopause transition, you can learn more with our symptom checker or by taking our Menopause Questionnaire.
You can also find more information about the menopause transition at the British Menopause Society and the National Institute for Health and Care Excellence.