What is menopause-related breast tenderness?
Breast pains are a common part of the menopause transition, although they are experienced in different ways. For some women, it's an experience of tenderness, burning or soreness as they go through the perimenopause and into the menopause. For others, it's a stabbing, sharp or throbbing pain. Breast pain can occur in just one or both breasts.
Most women worry about any symptoms concerning their breasts, and that's a natural response. Try not to panic.
Breast pain and tenderness are rarely early signs of breast cancer, but please speak to a doctor if you're worried, especially if you find a lump, if there is any change in the appearance of your breasts or nipples, or any nipple discharge.
What causes breast tenderness?
Your breast tissue is sensitive to hormones. In the perimenopause, oestrogen and progesterone hormones spike up and down unpredictably. It's these hormone changes that give us symptoms of tenderness.
As most of us know, our breasts can head south as we go through the menopause. This is because the quality of the supporting connective tissue decreases as you lose oestrogen. If your bra doesn't give you enough support, that can also make your breasts feel tender and uncomfortable.
How many women typically experience breast tenderness?
It's estimated that around 40% of all women experience breast tenderness at some time in mid-life, but it usually improves with age.[1]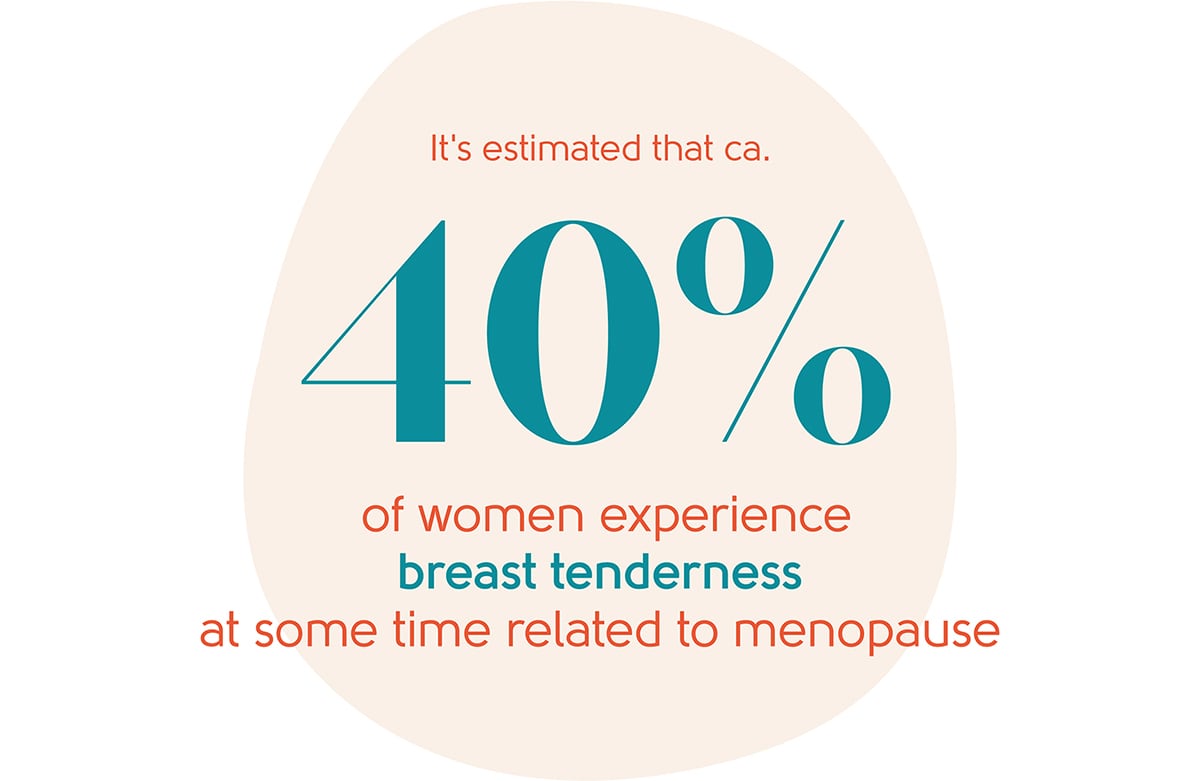 Is breast tenderness linked to any particular stage of the menopause?
Breast tenderness is more common in the perimenopause than in the later stages of the menopause transition, where oestrogen levels stabilise. 
Many women have experienced breast pain and tenderness as a premenstrual symptom, and it may get worse in the perimenopause.
How can breast tenderness be treated?
The good news is that there are quite a few ways to help lessen this symptom of the menopause transition. They include:
A good bra
Supporting your breasts with a well-fitting bra can make a big difference. Lots of department stores and lingerie shops offer fitting services to help you get it right.
Stop smoking
As well as reducing breast pain, it will also reduce your risk of breast cancer. If you would like help to quit, the NHS is a great place to start.
Avoid caffeine
Just as it can lessen bladder symptoms, cutting caffeine out of your diet can dampen the effects of breast tenderness[2].
Evening primrose oil
Taking a dose of around 320mg/day for three to six months may help some women. Even though it's a natural product, this isn't suitable for everyone as it may increase the chance of bruising and bleeding. Just because it's natural doesn't mean it's safe for everyone.
You shouldn't take evening primrose oil for at least two weeks before surgery. If you have epilepsy, it can increase your chance of seizures.
Weight loss
Trying to lose even a small amount of weight can have a really positive effect on your body and your mental health. We know it's not easy, that's why we recommend our friends at Her Spirit. They can help you get more active by finding an activity for you and by providing the support to do it.
Ibuprofen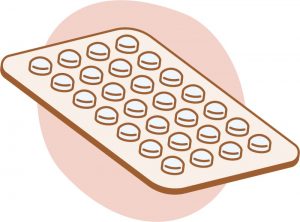 Simple anti-inflammatory painkillers can help with breast tenderness. Not everyone can take anti-inflammatories – there is more information on the NHS website.
As always, please speak to a doctor or pharmacist before taking anti-inflammatories if you have any other medical conditions or are taking other medication.
What next?
If you're worried about breast tenderness, you should see your GP. If you would like to discuss your symptoms in the context of the menopause, book an appointment with our menopause clinic.
If you think you may be experiencing symptoms of the menopause transition, you can learn more with our symptom checker or by taking our Menopause Questionnaire.
You can also find more information about the menopause transition at the British Menopause Society and the National Institute for Health and Care Excellence.