The menopause and fertility
Fertility decreases as you get older (starting around the mid-30s), and it drops significantly as you approach the menopause.
However, your fertility doesn't decrease to zero in the perimenopause – some women get pregnant naturally in their late 40s and even in their 50s – so it's important to use contraception if you don't want to get pregnant.
Pregnancy in your 40s and 50s can be more complicated. The risk of miscarriage and ectopic pregnancy increases with age, as do pregnancy and birth complications. Discussing your plans with a healthcare professional may be helpful if you're trying to conceive.
How many women typically experience fertility issues?
Around 1% of women go through the menopause under the age of 40 – this is known as premature ovarian insufficiency (POI). POI can be a devastating diagnosis if you haven't started a family, but there is still a small chance of becoming pregnant naturally[1]. Please ask for a referral to a fertility clinic to discuss your options if this applies to you.
Age and the chance of conception
The chance of conceiving decreases with age:
Age 40-44 – if you don't use contraception for a year, and have regular sex, up to 20% of women will become pregnant
Age 45-50 – the chances are more like 10%
Over 50 – the chance of pregnancy is significantly lower
Over the age of 55 – the chance of pregnancy is low enough for all women to stop using contraception[2]
What causes fertility issues?
As you get older, the number of eggs you have in your ovaries starts to run out. Then, as you hit the perimenopause, you may not release an egg every month, which reduces your chances of getting pregnant.
Your periods may or may not be irregular at this time, and the number of eggs you release continues to dwindle as you approach the menopause. You can go for months with no bleeding and no ovulation, and then suddenly have a period with egg release. After the menopause, no eggs are released at all, and there is no chance of pregnancy.
If you're over the age of 50, you should wait until you haven't had a period for over a year before you stop using contraception (in other words, you've been through the menopause). If you're under 50 and your periods stop, and you are not taking hormones, we advise you to wait for two years before stopping contraception[3].
If you're taking hormones and not bleeding as a result, it's impossible to know if you're fertile or not. It's the method of contraception you're using that may mean that you don't have bleeding – not the menopause. If you stop using the contraception, you may be fertile and may start bleeding again. You can read more about contraception here.
The quality of the eggs you have in your ovaries also deteriorates with age, which increases the chance of having a miscarriage or having a baby affected with a genetic disorder such as Down's Syndrome.
The thing to remember is that if you're thinking of stopping using contraception, please discuss it with a doctor first, so that you don't risk getting pregnant if this isn't what you want.
How can fertility issues be treated?
If you're having issues trying to conceive, you should take folic acid and speak to your doctor about a referral to a fertility clinic. There are a few tests that your GP may do before they refer you.
You may have heard about a blood test offered by fertility clinics called Anti Mullerian Hormone (AMH) which is available privately. This isn't a perfect blood test for predicting egg reserve (how many eggs you have left) or fertility, but it will act as a guide to give you the best information about how likely you are to respond to fertility treatment, if this is an option for you.
If you decide to take this test, we recommend getting a specialist infertility expert to explain it to you and make sure you understand what the results are – and aren't – telling you.
Advice for conceiving:
Have sex – every 2-3 days
Reduce stress where you can – think meditation, mindfulness, and exercise
Stop smoking – this can reduce fertility in women
Reduce alcohol – no more than 1-2 units, once or twice a week
Think about your weight – it can take longer to get pregnant if your BMI is above 30 or below 19[4]
If you have POI (menopause under the age of 40), please ask your GP for a referral to a fertility clinic. Many women need to consider egg donation, and this whole process, and alternatives, will be discussed with you.
Finally, if you are about to have a medical or surgical treatment that will cause you to become menopausal, perhaps to treat or prevent cancer or another medical condition, make sure you have been given information about the likely effect of this on your fertility and the menopause.
If you haven't already, speak to your specialist to get more information and, where appropriate, a referral to a fertility or menopause specialist.
What next?
If you're worried about infertility issues, you should speak to your GP. We can't offer specific advice on fertility in our clinic, but we can talk to you about the wider effects of the menopause. You can book an appointment here.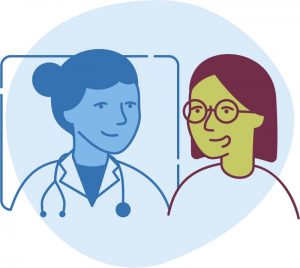 If you think you may be experiencing symptoms of the menopause transition, you can learn more with our symptom checker or by taking our Menopause Questionnaire.
You can also find more information about the menopause transition at the British Menopause Society and the National Institute for Health and Care Excellence.
There's lots of information on contraception for women over the age of 40 here as well as more advice on fertility and treatments here.