What are menopause-related heart palpitations?
We often talk to women who are worried about heart palpitations or irregular heartbeats. Menopause can cause heartbeats that suddenly become more noticeable. With palpitations, it's not unusual for your heart rate to increase – usually lasting from a few seconds to a couple of minutes. 
It can feel like your heart is racing, beating faster than usual, or pounding or fluttering. Sometimes this happens during a hot flush, but not always. You may also feel a pounding or fluttering sensation in your throat or neck, or a change in your breathing and a feeling of panic or anxiety.
What causes heart palpitations?
Palpitations in the menopause can be the result of stress or hot flushes. They can also be linked to other medical conditions:
Caffeine, alcohol and nicotine use
Some cough and cold medicines, and asthma inhalers
Fever
Irregular heart rhythms, such as atrial fibrillation or supraventricular tachycardia
Overactive thyroid gland
Medicines, including those used to treat an underactive thyroid gland
Low blood sugar or low blood pressure
Dehydration
Intense exercise
During the perimenopause, there's a marked decrease in how much oestrogen your ovaries are producing. This can be associated with an increase in heart rate (sinus tachycardia) and in the frequency of palpitations and non-threatening arrhythmias (where the heart does not beat regularly).
As you arrive at the menopause your oestrogen level declines and your periods stop. You may still experience irregular heartbeats as a result.
Oestrogen levels can affect the heart directly or indirectly. The mechanism in the heart controlling the heartbeat timing can be altered, or palpitations can also be caused by oestrogen's effect on the blood vessels of the heart.
Oestrogen may also affect the part of the nervous system that controls the heart rate. This is something entirely beyond your control.
How many women typically experience heart palpitations?
Palpitations are common and in a recent survey were experienced by around a quarter of women aged between 45 and 65[1]. If linked to menopause symptoms such as hot flushes, they can settle down just as other menopause symptoms tend to do.
Always see a doctor if your palpitations persist.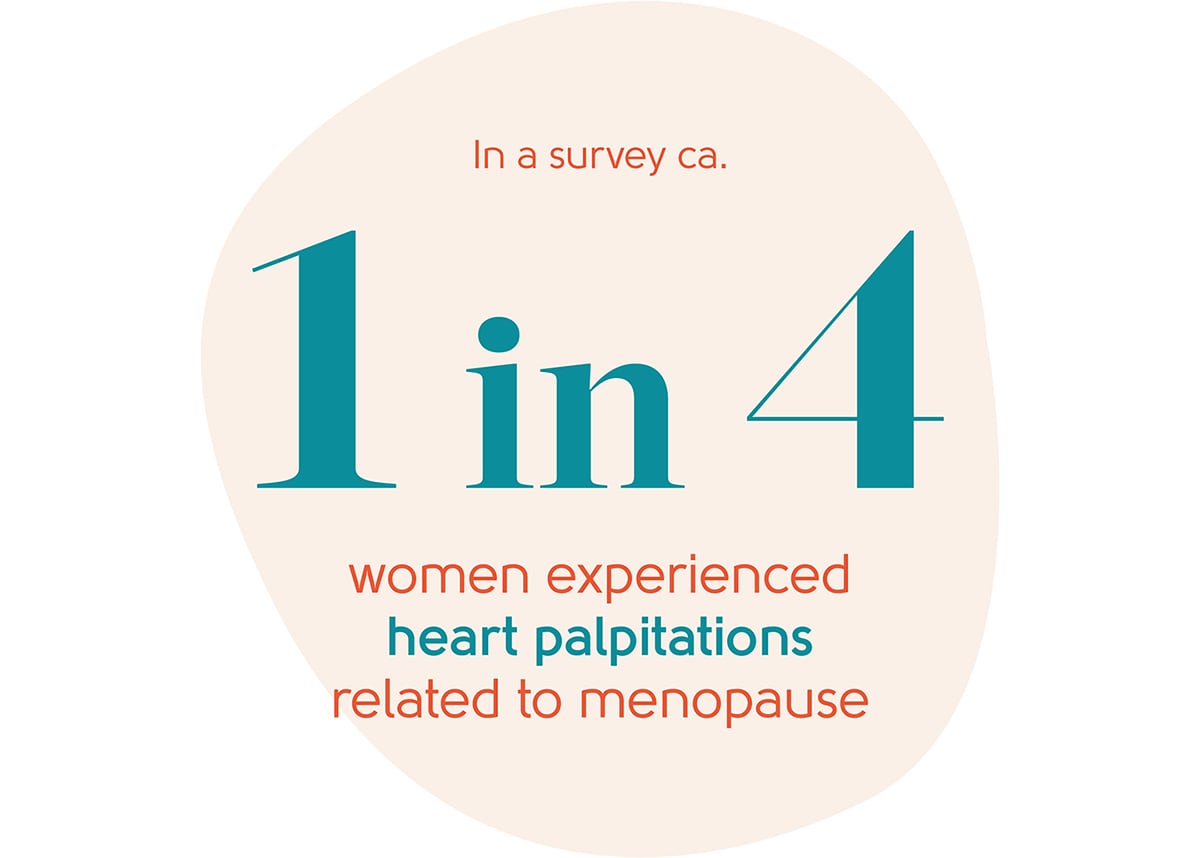 Are heart palpitations linked to any particular stage of the menopause?
There's no set pattern – palpitations and irregular heartbeats can occur at any time in the perimenopause and menopause.
How can heart palpitations be treated?
Thankfully, palpitations of the perimenopause and menopause are usually mild, settle by themselves and don't need any kind of treatment.
There are some lifestyle changes you can make that may help:
Managing anxiety
Think about whether you can take time out for relaxation in your day. Just learning helpful relaxation breathing techniques can be useful and calm things down in minutes. Some meditation apps offer short techniques for relaxing.
Avoid alcohol and caffeine
Both of these can trigger palpitations, so avoiding them can help. You might find switching to decaf tea and coffee helps.
Prevent blood sugar dips
These may come after eating sugary foods. Low blood sugar can result in the release of adrenaline which can speed up your heart rate.
Hormone Replacement Therapy (HRT)
If your palpitations are linked to symptoms of the menopause, then managing these symptoms can help. Hormone Replacement Therapy (HRT) is the most effective treatment for managing symptoms of the menopause, and so has a knock-on benefit on your palpitations. Your doctor will usually want to rule out other causes for your palpitations before starting you on HRT – see below.
You can find out more about HRT here.
When to see a doctor
It's always best to discuss your palpitations with a doctor. If your palpitations are very troublesome and making you feel anxious, prescription medication is available that can help settle them. Your doctor may want to investigate further to ensure your palpitations are related to the menopause and hormones – and not an underlying heart disease or condition.
We recommend that you see a doctor if your palpitations are:
Persistent
Frequent
Last for long periods
Triggered by exercise
You should also see a doctor urgently if you experience:
Chest pains or tightness
Dizziness or fainting
The sudden onset of weakness of your face or part of your body
Slurred speech
If you have chest pains, blackouts, or severe shortness of breath, you may need emergency help. If this is the case, you should call 999 or go quickly to A&E.
What next?
If you're concerned about heart palpitations or irregular heartbeat, see your GP. If you would like to discuss your symptoms in the context of the menopause, book an appointment with our menopause clinic, but it would be good to speak to your GP first.
If you think you may be experiencing symptoms of the menopause transition, you can learn more with our symptom checker or by taking our Menopause Questionnaire.
You can also find more information about the menopause transition at the British Menopause Society and the National Institute for Health and Care Excellence.