What is menopause-related depression?
Depression can leave you feeling sad, low, and generally losing interest in life. This is a common symptom of the menopause, and it's essential to recognise the signs and to seek help early.
Women going through the menopause transition tell us that they feel more tearful, more irritated, and are quicker to get cross. They often get upset with themselves for feeling like this.
Feeling sad or depressed is a perfectly normal reaction to loss or life's challenges. And the transition through the perimenopause, menopause and beyond can make it harder.
Throw in a host of other factors like family changes, work pressure, self-esteem, society's view of menopausal women, and it's no wonder you might feel down.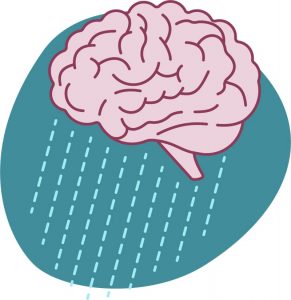 Understanding depression
The menopause is often misdiagnosed as depression because of the similarity of symptoms. These include fatigue, sleep issues, weight change, poor concentration and low sex drive. It can be hard to distinguish between clinical depression and the low mood associated with the menopause.
If these feelings suddenly begin in your early-to-mid-40s (with or without period changes), they are more likely to be related to the menopause. Your mood can swing up and down in the perimenopause, and continue to do so as you transition into the menopause and postmenopause. If you suffer from premenstrual syndrome (PMS), this may get worse too.
With clinical depression, the symptoms overlap with the menopause, but the sadness is very intense – including feeling helpless, hopeless, and worthless. It lasts for many days to weeks, keeping you from living your life.
Depression is not linked to any particular stage of the menopause. It can start early in the perimenopause, and so it's essential to consider this if you notice changes within yourself – or if others notice them in you.
Symptoms of depression
Depression can take many different shapes and forms. Some of the symptoms include:
Disturbed sleep
Changes in appetite
Fatigue
Agitation
Poor concentration or indecisiveness
Feelings of worthlessness
Excessive or inappropriate guilt
Recurrent thoughts of mortality and death
Sometimes, thoughts about mortality and death can progress into thoughts about, and even plans for, self-harm or suicide. If you are experiencing thoughts like these, please phone the Samaritans on 116123 or visit their website.
What causes depression?
In the perimenopause and menopause, a mix of factors come together – physical changes and changes at work or home. It can be impossible to pull out any one factor as the cause of your low mood and symptoms of depression.
We know that hormonal changes play a significant role, and how you are feeling is not the result of a weakness in yourself – just knowing that simple fact can be a first step to feeling a bit better.
The direct effect of hormones
Hormones directly affect your brain and how it functions:
Many studies have shown that hormone changes have been linked with changes to mood and anxiety[1]
Oestrogen is linked to serotonin levels (the 'happy hormone') in the brain so that when oestrogen levels drop, so does serotonin
There is evidence that oestrogen is also linked to cortisol levels – the hormone of stress, so that when oestrogen levels drop, cortisol levels rise
Some brains are more sensitive to the changing levels of hormones than others. You may be more likely to suffer from mood changes in the menopause if you have suffered from postnatal depression for example, and premenstrual syndrome can worsen in the perimenopause. Or you may have already experienced one of the more severe forms of depression in the past and it's important to be aware that this may get worse again. Decreasing oestrogen levels have been shown to reduce your resilience to, or ability to cope with, stress.
It's worth knowing this so you can be on the lookout for changes, and ask for help sooner rather than later.
How many women experience symptoms of depression in the menopause?
In research conducted by the British Menopause Society, just over half of the women interviewed reported experiencing symptoms related to mood – so mood changes are a common experience during the menopause transition.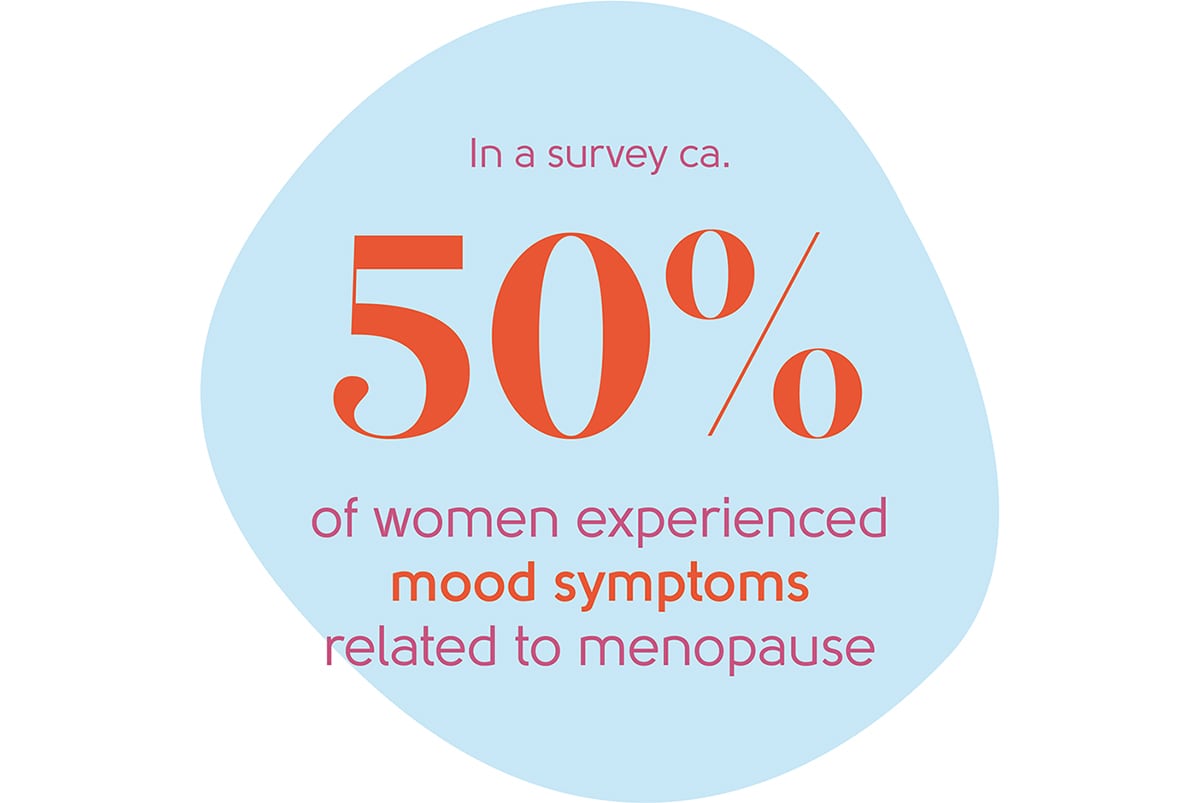 How can depression be treated?
There are different ways to treat depression and low mood throughout your menopause transition. The most important thing is to ask for help.
Lifestyle changes
There are various lifestyle changes that can help your mood.
Exercise
This can increase your sense of wellbeing, self-worth and body image, and create feelings of happiness while reducing stress and anxiety.
You may think it's the last thing you feel like doing. But just putting on your trainers and walking for five or ten minutes during the TV ad breaks or while listening to a podcast can help you feel better.
Our friends at Her Spirit can help you find an activity for you and provide the support to do it.
Mindfulness
Just as exercise can improve your physical health, mindfulness, yoga and meditation can improve your mental health. There are lots of great online classes and apps available. Here are our favourite apps for mindfulness and relaxation.
Avoid alcohol
Alcohol can pull your mood right down and affect sleep in a bad way. Many women drink alcohol to get them off to sleep, but the quality of that sleep can be poor, leaving them feeling tired and low the next day.
Talking therapies
Counselling and cognitive behavioural therapy (CBT) can help many women sort out how they feel and why, suggesting strategies to challenge the way they think. This can help break the cycle of negativity. Speak to your GP or health centre about services that they offer and can link you into.
If you'd like to find out more about CBT, you can also get in touch with our CBT partners, Sue and Claire.
Treating depression with medication
You may be wondering about Hormone Replacement Therapy (HRT) or antidepressants for treating menopause symptoms relating to depression. HRT can be more effective than antidepressants if your mood changes are menopause-related[2]. Nevertheless, antidepressants are still an important management option for persistent, or major depression.
Hormone Replacement Therapy (HRT)
If your mood changes are related to the perimenopause or menopause, evidence suggests that HRT is better at improving your mood than antidepressants[3]. It may be worth a try, even for a short period, to see if it helps. You may be concerned about the risks of HRT but the reality is that they are very low for most women.
HRT can improve the overall quality of your life, energy levels and sleep. It doesn't negatively affect libido or cause sexual dysfunction (which antidepressants can).
You can find out more about HRT here.
Antidepressants
If you have been advised not to take HRT, or don't want to, antidepressants are an alternative, particularly if you have clinical depression.
They can lift your mood, help you sleep and reduce your anxiety. They may also help hot flushes, although HRT is a more effective treatment.
While very useful for many, antidepressants can have side effects. We recommend using them to treat menopause symptoms in conjunction with lifestyle changes (such as exercise, reduction in alcohol intake) and therapy, as advised by your doctor.
Both Mind and the NHS have lots more information about antidepressants.
What next?
If you're worried about depression, you should see your GP. If you would like to discuss your symptoms in the context of the menopause, book an appointment with our menopause clinic.
If you think you may be experiencing symptoms of the menopause transition, you can learn more with our symptom checker or by taking our Menopause Questionnaire.
You can also find more information about the menopause transition at the British Menopause Society and the National Institute for Health and Care Excellence.