What are menopause-related headaches and migraines?
We all get headaches and head pain now and again, and some of us are unfortunate enough to suffer from migraines. Unfortunately, these can become more frequent and severe during the menopause transition.
This is because your hormone levels can wildly fluctuate, and hormones play a part in these symptoms. It's also likely to be why migraines are more common in women than men.
Stress and anxiety linked to the menopause can also be important triggers for some migraine sufferers.
What is a migraine?
Migraines are recurrent episodes of a headache that stop you from functioning. Migraines normally last between four and 72  hours and are often accompanied by nausea and photophobia (where light hurts your eyes).
Importantly, a migraine can come with or without a warning aura. This can be a visual aura, like flashing lights or dark spots, or odd sensations like tingling, numbness, or vertigo. Auras last up to an hour and go away before the headache starts.
It's important to note whether you just have a migraine or a migraine with an aura. This is because experiencing an aura means your risk of stroke is increased by a small amount[1], and you should not take the combined oral contraceptive pill.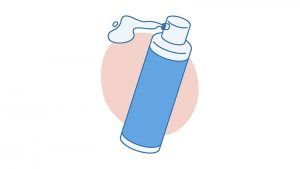 You can take Hormone Replacement Therapy (HRT), but it is more advisable to take the oestrogen through your skin (transdermal) rather than in tablet form. You can read more about HRT here.
Most women have migraines without experiencing an aura. Around 10% of women who experience migraines have migraines with an aura, and a smaller percentage have both[2].
A headache is where there is a pain in your head but without the other symptoms of a migraine.
What causes headaches and migraines?
Fluctuating oestrogen may be responsible for the increase in headaches and migraines in your perimenopause and menopause[3].
It's been shown that a fall in oestrogen around the time of your period is responsible for migraine linked to periods[4].
Periods can become more or less frequent in the perimenopause, which means that migraine frequency changes – and can also become more severe. Other menopause symptoms like anxiety, lack of sleep and hot flushes and sweats can also contribute to more frequent and severe migraines.
How many women typically experience headaches and migraines?
Surveys have shown that, in women who attended menopause clinics, almost one in three suffer migraines, with most women reporting severe attacks happening more often than once a month[5].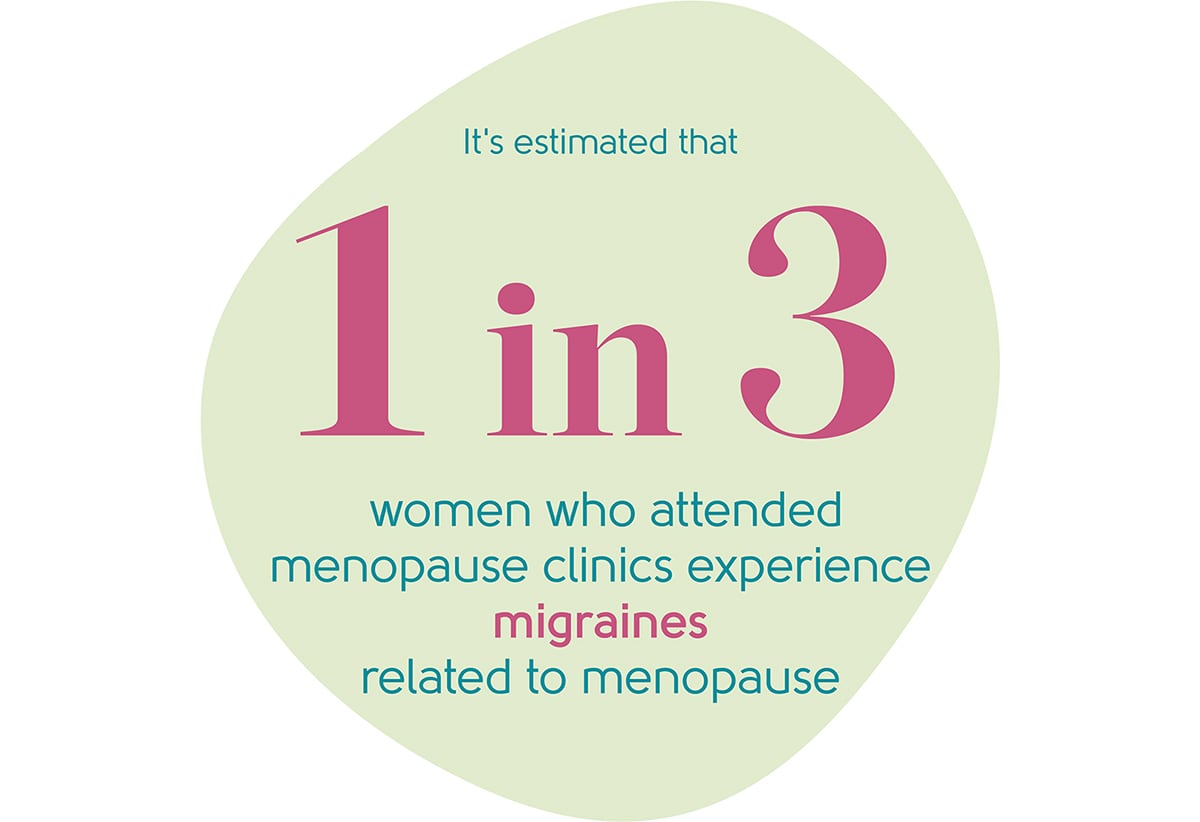 Are headaches and migraines linked to any particular stage of the menopause?
Early in the perimenopause, when your oestrogen levels start to go up and down more unpredictably, you may experience migraines for the first time, or your existing symptoms may become more severe.
Thankfully, hormonal headaches and migraines can get better after the menopause when your periods stop and your oestrogen level is low and stable. However, this can take years to happen, and occurs mainly if your migraines are hormone-related.
How can headaches and migraines be treated?
If your headaches or migraines are getting worse or changing, you should speak to a doctor.
Regular exercise
Exercise has been shown to prevent migraines. If you're not exercising, it can be a challenge to start, particularly if you're suffering from the other symptoms of the menopause. This is why we've teamed up with our friends at Her Spirit who can advise, help and support you in ways to get going. They can help you find an activity for you, and provide the support to do it.
Stay hydrated
Keeping topped up on fluids can help along with trying to avoid stress. We find it helpful to always have a glass of water or water bottle nearby to encourage you to stay hydrated.
Avoid specific triggers and keep a headache diary
Some women have specific triggers that should be avoided. Common ones include:
Hormonal
Emotional
Physical
Dietary
Environmental
Medicinal
Caffeine and alcohol can be important triggers for some, so reducing the amount you drink of each can help.
Noticing what seems to make a difference to your symptoms and keeping a headache diary can help identify the important triggers for you.
If stress is a trigger, then relaxation, meditation, whatever works for you, can help. Cognitive Behavioural Therapy (CBT) can help you challenge negative thinking and help you break out of the vicious cycle. You can find out more about our CBT partners Sue Makin and Claire Lloyd.
HRT (Hormone Replacement Therapy)
HRT can help if your migraines are linked to hormones. Giving oestrogen back in a stable dose can help stop the hormone fluctuation that can trigger a migraine. It's important to talk to your doctor to find the lowest dose to control your menopause symptoms, as symptoms can get worse if the dose is too high.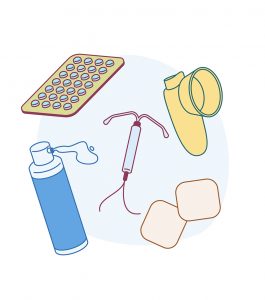 HRT is an effective way of managing menopause symptoms. So it may help with headaches and migraine by taking away some of the other symptoms that trigger them, such as lack of sleep or stress.
If you're not sure which HRT to take, oestrogen levels will be more stable if you take it through your skin in a patch, gel or spray. You should know that migraine sufferers have a small increased risk of stroke – which gets higher if you suffer from aura with your migraine. The risk of stroke increases with HRT tablets, but not with transdermal oestrogen which is taken via a skin patch, gel or spray[6]. Read more about HRT here.
If you can't or don't want to take HRT, antidepressants can also help prevent your symptoms. Again, talk to your doctor, as other medication can be taken to help prevent migraine and headache. You can read more about prescribed alternatives to HRT here.
When to get emergency help
Call 999 for an ambulance immediately if you or anyone with you experiences:
Paralysis or weakness in one or both arms or one side of the face
Slurred or garbled speech
A sudden agonising headache resulting in a severe pain unlike anything experienced before
Headache along with a high temperature (fever), stiff neck, mental confusion, seizures, double vision and a rash.
What next?
If you're worried about headaches or migraines, see your GP. If you would like to discuss your symptoms in the context of the menopause, book an appointment with our menopause clinic.
If you think you may be experiencing symptoms of the menopause transition, you can learn more with our symptom checker or by taking our Menopause Questionnaire.
For more information on migraines, check out this patient information leaflet, or go to the NHS or the Migraine Trust.
You can also find more information about the menopause transition at the British Menopause Society and the National Institute for Health and Care Excellence.