Going through the menopause can be a confusing, challenging, and isolating time in a woman's life. There are so many mixed messages about what the menopause actually is, the myriad of associated symptoms, not to mention the not-so-small matter of dealing with them. It's hard to know where to go for help.
But it can also be an inspiring moment, a chance to think about your health, your goals, an opportunity to check-in and re-assess – a time to think about you.
That's why we've created My Menopause Centre. We believe that knowledge is power, and we're on a mission to empower women to take control of their menopause and thrive.
We believe passionately in demystifying the menopause, raising awareness of the symptoms, and supporting women through their menopause transition with evidence-based information, advice and personalised care.
We want to help as many women as possible navigate this uncharted territory while also harnessing this new superpower – even though it doesn't always feel like one!
What makes us different?
After experiencing their own challenging menopause journeys, GP and registered menopause specialist, Dr Clare Spencer, and women's wellness champion, Helen Normoyle, knew something needed to change to stop other women from going through the same thing. Clare dedicated time to qualifying as a menopause specialist and then joined forces with Helen to create My Menopause Centre – a website and online menopause clinic that provides a holistic, evidence-based and personalised approach to the menopause, from women, for women, available across the UK.
Our clinic
The My Menopause Centre clinic is made up of dedicated menopause doctors and nurses led by Dr Clare Spencer, a registered menopause specialist and GP who also runs an NHS specialist menopause service.
Listening is at the heart of everything we do in our clinic – it helps us understand your symptoms, goals and needs. We know that every woman's experience of the menopause is different and that there isn't a one-size-fits-all approach. Instead, we'll share the latest evidence-based information and advice, and we'll work with you to create a personalised treatment plan.
We want to make sure that you're supported in every aspect of your menopausal life, so we've also partnered with leading specialists in fitness, nutrition, sex therapy, counselling and coaching to offer unique support and advice. You can find out more about our partners here.
Our website
We're passionate about raising awareness of menopause, its symptoms and the range of solutions available to treat them.
It's our mission to empower all women to take control of their menopause. That's why we've created lots of free guides and tools to help you understand:
Dr Clare Spencer wrote all the advice and information and drew on her medical expertise and years of practical experience in seeing and treating hundreds of menopausal women. It's also been put through a non-medical, no-nonsense filter with Co-Founder, Helen, to ensure that it's easy to understand and act on.
Our values
We are empathetic, supportive, and on your side

We provide expert and evidence-based information and advice

We are here to empower you 

We are honest and straightforward

We are inclusive
Why understanding the menopause matters
Every woman will experience the menopause. To put that into context, around 15.5 million women in the UK today are at some stage of the menopause transition (perimenopause, menopause, or postmenopause) – that's almost half of the UK's female population.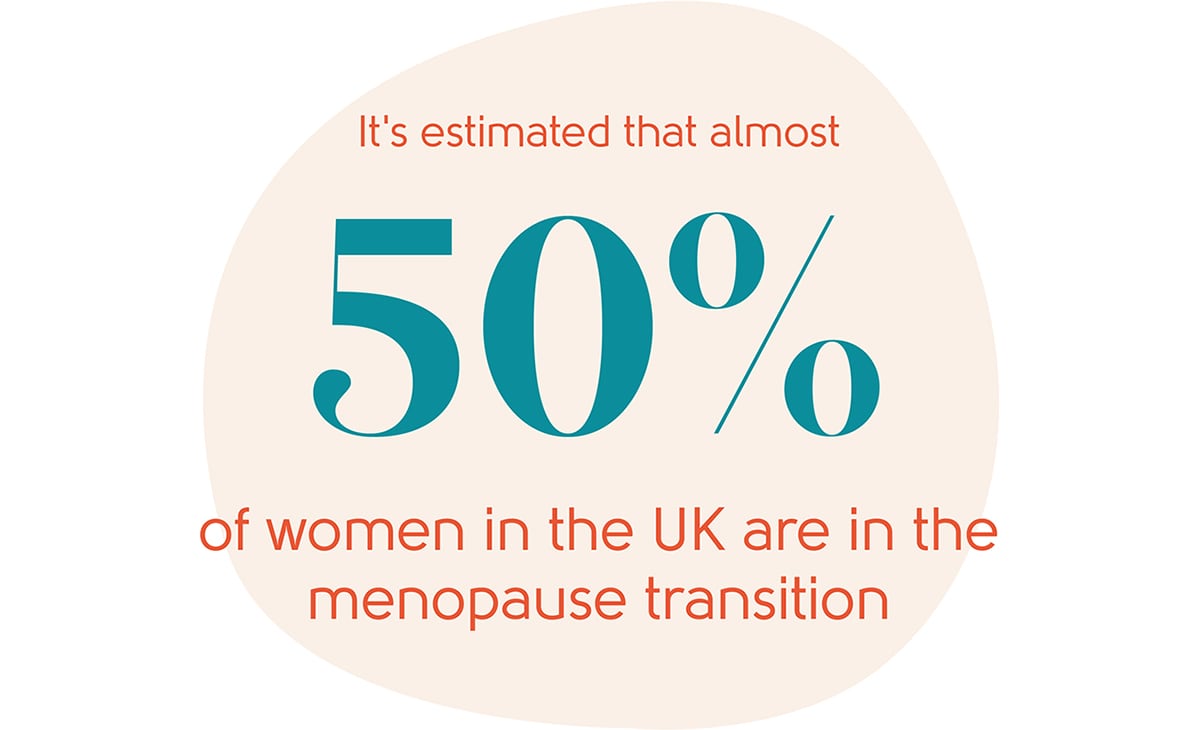 In 1922, the modal age of death for a woman was 77 and the average age for going through the menopause was 57. One hundred years later, life expectancy for a woman has increased to 89 years and the average age of menopause has fallen to 51. So this means she could spend at least 40% of her life postmenopausal – that's a whopping 38 years! Every woman is entitled to enjoy this time feeling as healthy, happy, and vibrant as possible.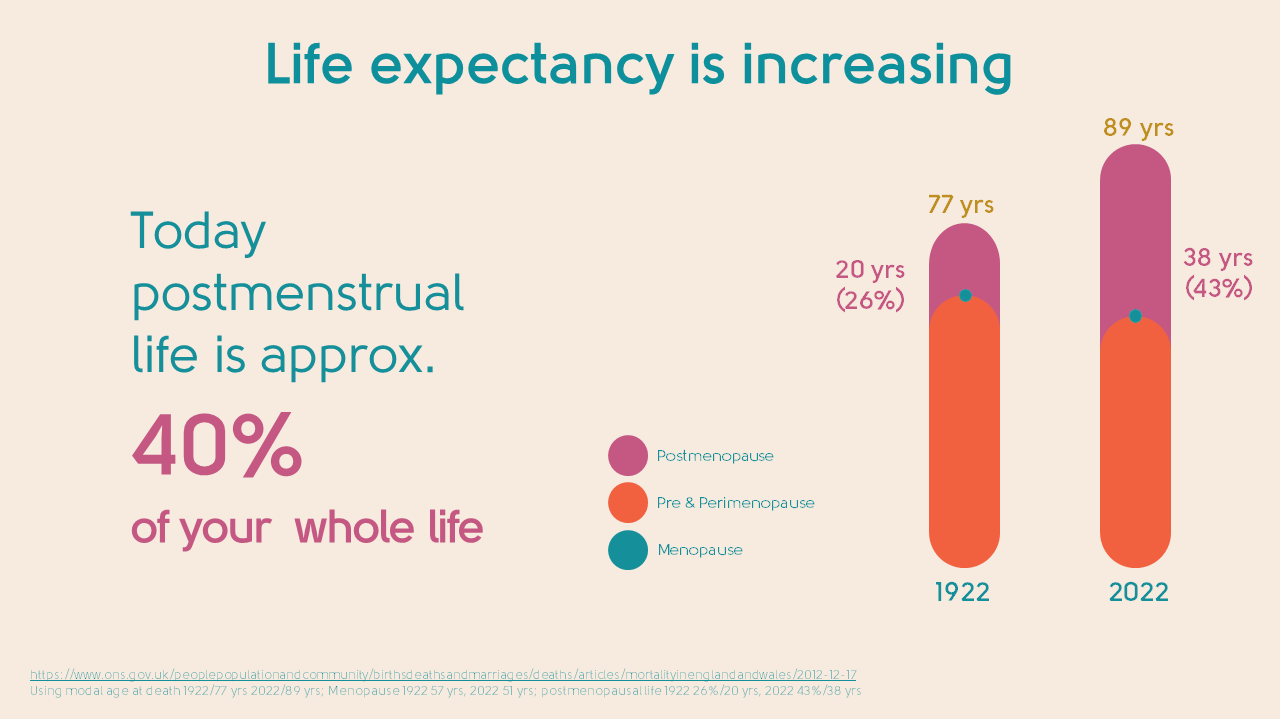 Unfortunately, while progress has undoubtedly been made over the past few years, it's simply not enough. The menopause is still a taboo subject amongst women, employers, the media, and society. The more you think about it, the crazier it is.
The bottom line is that there are personal, social, and economic consequences for this lack of awareness and support for women in the menopause. Too many are falling out of life, of love, of work – all because of a completely natural stage in life. Things need to change.
Empowering everyone to thrive during the menopause
While all women will experience the menopause, how they experience it varies enormously because, as with so many things in life, our background and how we show up in society can also shape how things play out.
Our mission at My Menopause Centre is to empower all women to thrive on their menopausal journey, and we pride ourselves on using evidence-based facts to help you thrive, regardless of your culture, ethnicity, gender, sexuality, age, health, or economic status.
However, we are acutely aware that much of the data that's available to us draws on research with white Western heterosexual women, meaning that anyone who doesn't fit these criteria can feel overlooked and disadvantaged in understanding their symptoms and treatment options.
This needs to change. It's one of the reasons we created our Menopause Questionnaire. Everyone who completes the questionnaire will contribute to our collective understanding of how the menopause is experienced. The more women of different ages, ethnicities, and backgrounds who complete our questionnaire, the better our collective understanding will be. We aim to build on and enhance existing information on how the menopause impacts women and plan to use what we learn to work with others and campaign to improve the support provided to women as they go through the menopause.
But we know that our research still won't be enough to close the knowledge gap that exists. Our questionnaire will help fill in some of the blanks, but we'd also love to hear your personal menopause stories. Are there people in your community who are leading conversations that are transforming menopausal women's lives? Maybe you're spearheading research to break taboos? Or is there something else in your personal armoury that has empowered you in your menopause journey that could help other women? Whatever it is, let's share it.
Because it's only by coming together, by being open and honest, by shining a light on these issues, getting comfortable with being uncomfortable, and having difficult conversations that we can make the menopause better for everyone. And that's our commitment – to make the experience of the menopause better for everyone.
We passionately believe that the menopause can mark the start of an exciting second act in life – one where we can use the wisdom and experience we've accumulated over the years to embrace, navigate and celebrate this transition.
Let's be the change we want to see. Let's be the change we deserve. Let's do it together. 
We'd love to hear from you – contact us at hello@mymenopausecentre.com or join our pause. community.