What are dry eyes?
It may surprise you to learn that one lesser-known symptom of the menopause is dry eyes.
If you're experiencing dry eyes, it's probably caused by an issue with the production of tears. We all have a tear film covering and lubricating the surface of our eyes, keeping them moist. The tear film is a complex mixture of water, oil and mucus.
The dry feeling happens when you don't produce enough tears, or when your tears are ineffective. This can cause a gritty sensation that feels like you've got something in your eye. It can also lead to stinging, burning, blurred vision and irritation.
What causes dry eyes?
Dry eyes are a common symptom of ageing, but can become worse in the menopause. It's thought this is due to the decrease in oestrogen and androgens (the male hormone that all women have).
Nobody knows exactly how hormones are linked to dry eyes, but it's likely to be a combination of the decrease in tear production, ineffective tears and tears drying up.
How many women typically experience dry eyes?
Dry eyes affect up to around 10% of women as they transition through the menopause – though some surveys have shown higher figures[1].
Although most menopause symptoms improve with time, dry eyes may continue and could get worse if you don't ask for help[2].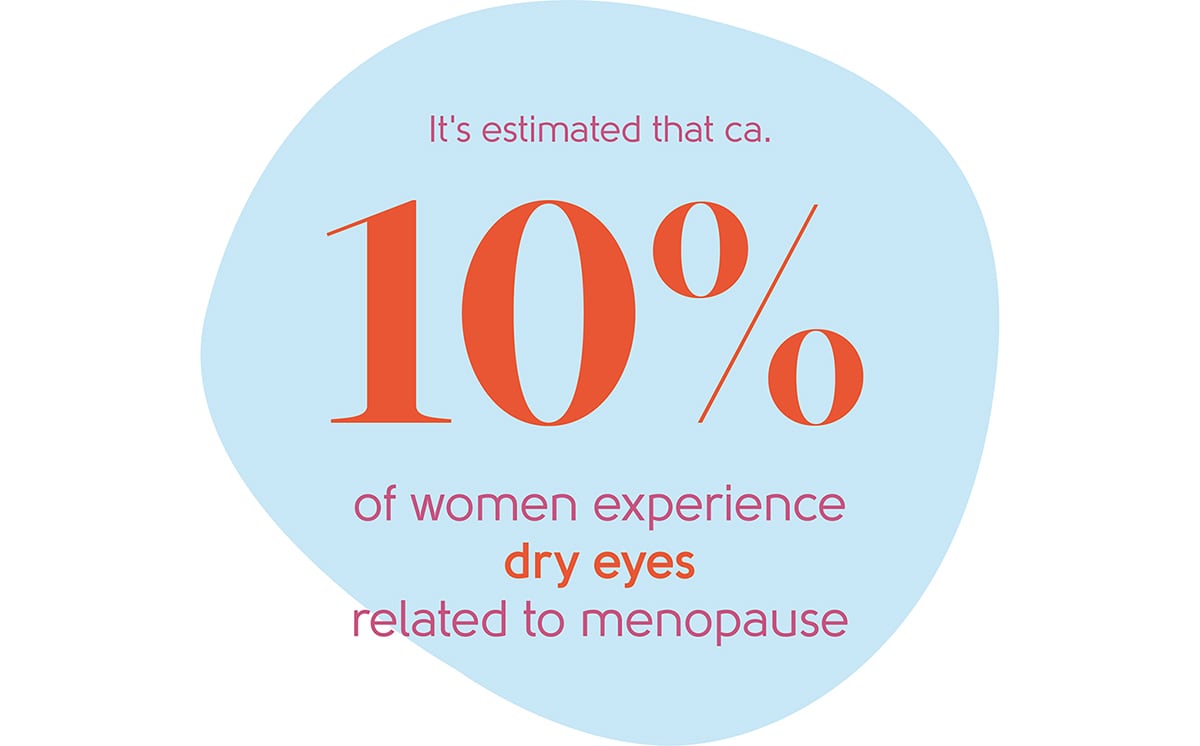 Are dry eyes linked to any particular stage in the menopause?
Dry eyes may start in the perimenopause, but they become more common as you transition through the menopause, and with age.
How can dry eyes be treated?
There's a variety of things you can do to help with the symptoms and discomfort of dry eyes.
Avoid irritants
Staying clear of things that irritate your eyes can help – air conditioning, allergies and being out in the wind can all lead to dry eyes. Some women find that contact lenses lead to dry eyes. Wraparound sunglasses can help protect your eyes while you're outside.
Limit screen time and lower screens
Cutting back on screen time can help prevent eye strain and dryness. Lowering your computer screen means your eyelids are lower and you reduce the surface area that tears evaporate from.
Artificial tears
You can buy these, and lubricating ointments, from your local chemist. If you don't feel any improvement, speak to your GP. If your symptoms are severe, you may need a referral to an eye specialist.
Plenty of fluids
Making sure you're drinking water throughout the day can help. You should also avoid alcohol if you're suffering from particularly bad dry eyes, as it can be dehydrating.
Hormone Replacement Therapy (HRT)
Some studies suggest HRT can be beneficial for treating dry eyes, but the jury is still out. It's worth talking to your doctor about the benefits and risks of HRT if you're considering it. We also have a handy article that tells you everything you need to know about HRT.
What next?
If you're worried about dry eyes, you should see your GP. If you would like to discuss your symptoms in the context of the menopause, book an appointment with our menopause clinic.
If you think you may be experiencing symptoms of the menopause transition, you can learn more with our symptom checker or by taking our Menopause Questionnaire.
You can also find more information about the menopause transition at the British Menopause Society and the National Institute for Health and Care Excellence.