Lots of women experience brain fog during the menopause, so you can relax knowing that you're not alone. Thankfully, there are plenty of things you can do to feel better.
But first, what is brain fog? It's that awful feeling where your brain feels like it's full of cotton wool, making it difficult to think clearly.
It can go hand in hand with other changes (usually temporary) in how your brain functions as you transition through the menopause. For example, brain fog can be linked to:
Difficulty concentrating
Memory loss
Forgetfulness
Difficulty recalling the right words
You may also experience brain fog alongside other symptoms of the menopause, such as mood swings, depression, anxiety, and sleep issues.
Brain fog can be debilitating, particularly if you need to function day-to-day in a high-performance or pressured environment at home or work. It can affect your levels of confidence and self-esteem too.
What causes brain fog?
Changes in brain function are a result of changes in your hormone levels and their effects on the brain. Oestrogen plays a vital role in how the brain works. Studies show that, for some women, low oestrogen can be linked to lower brain performance[1].
Different areas of the brain perform different functions. For example, some brain areas take care of memory while others regulate mood. Oestrogen is essential for the normal functioning of many of these areas and helps different parts of the brain communicate with each other. Testosterone and a number of other hormones are also essential for normal brain function.
If you're feeling stressed, your cortisol levels rise and this hormone can also interfere with how well your brain functions. It's a bit of a vicious cycle.
So rest assured, there are biochemical reasons why your brain feels hazy. It's doubtful that you have early dementia or are losing your mind – a concern we often hear women express when they come to us.
How many women typically experience brain fog?
Brain fog is very common. In research conducted by the British Menopause Society, almost 40% of the women interviewed reported issues with memory and concentration as they go through the menopause[2].
In another survey[3], conducted with women at work and in the menopause transition, over 50% reported low concentration, tiredness, and poor memory as the menopause symptoms having the most impact on their work.
More recent research commissioned by Channel 4[5] showed that 73% of the women interviewed in their survey experienced brain fog: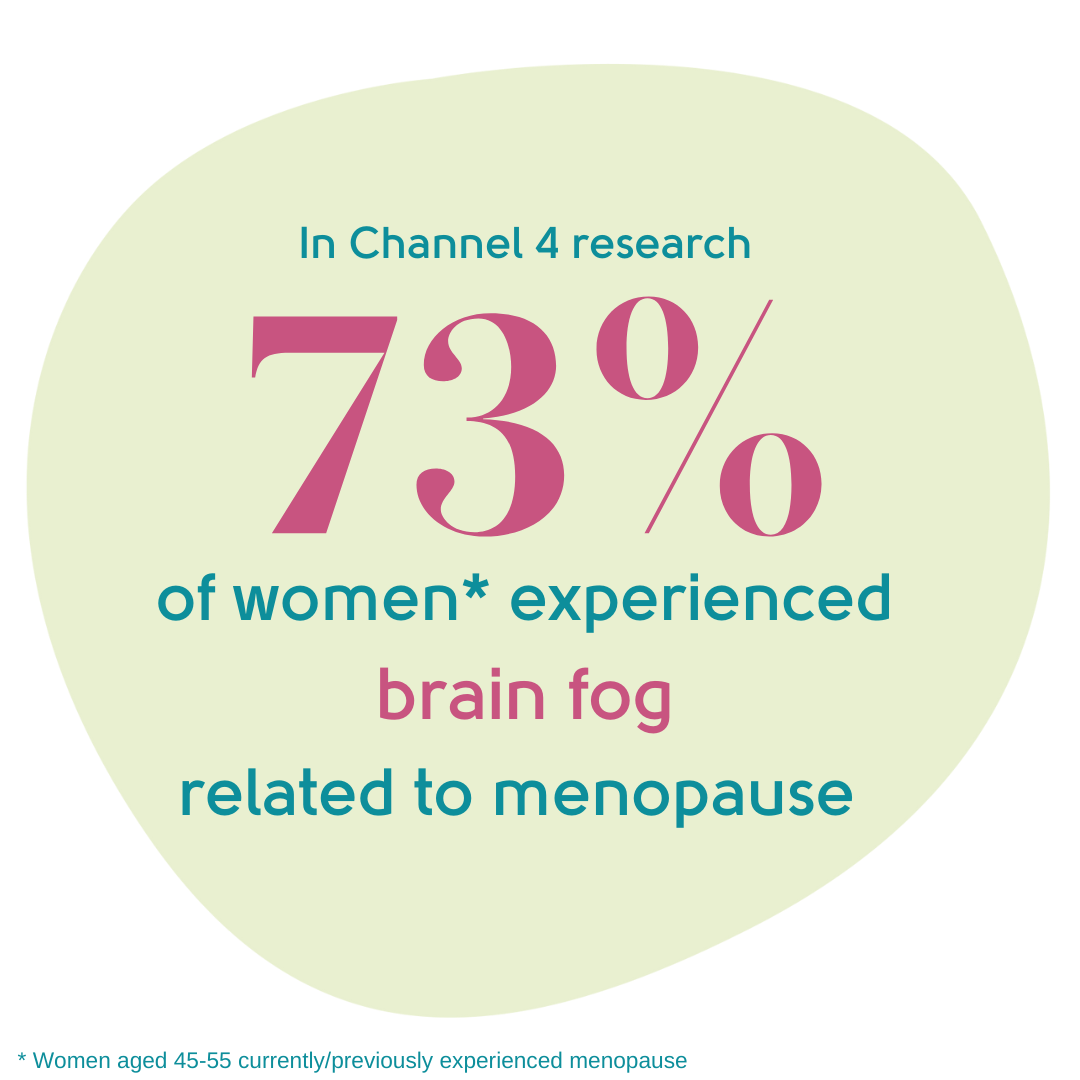 Is brain fog linked to any particular stage of the menopause?
Brain fog can occur at any stage of the menopause. In our experience, it may be an early sign of the perimenopause.
How can brain fog be treated?
Brain fog, like many menopause symptoms, usually goes away on its own. However, while you've got it, it can be debilitating and impact your confidence. Here are some top tips to help:
Sleep
Try to get plenty of quality sleep. Brain fog can be connected to lack of sleep or poor quality sleep. See our information on sleep issues and try to work out what's keeping you awake. If it's night sweats, look at ways of managing them.
Exercise
There's lots of evidence that exercise can help brain function[4]. So while it may be the last thing you feel like doing, just putting on your trainers and walking for five or ten minutes in the ad breaks or while listening to a podcast can help you feel better.
Our friends at Her Spirit can help you find an activity for you and provide the support to do it.
Diet
There isn't a single best diet or food for brain function, but make sure your diet is rich in oily fish, fruit and vegetables. Keep sugar intake low and avoid excess alcohol.
You can learn more about nutrition through our nutrition partner, Joanne Bolger.
Managing stress
The more you worry about brain fog the more anxious or stressed you get, and the worse it can become. Try to challenge your unhelpful, negative thoughts. Understanding why you feel so foggy-headed can help, as can finding ways to work around it.
For example, if you know you have a difficult task to do, find a time when you're feeling more relaxed and less tired, or time-pressured. This may require more planning.
Cognitive Behavioural Therapy (CBT) can challenge negative thinking and help you break out of the vicious cycle. You can find out more about our CBT partners Sue and Claire here.
Find time to relax
Make time to 'switch off'. Whatever you like to do to relax, build some time into your day to do it, and don't feel guilty about it. Switching off from time to time can relieve stress and decrease the stress hormones that can affect brain function.
Develop your own coping strategies
Embrace reminders, notes, and lists sections on your phone or other electronic devices. Make lists and tick things off – there's nothing quite so satisfying!
Brain activities
Keeping your brain active can help with brain fog. Have you thought about crosswords, sudoku, reading, or perhaps learning a new skill that interests you?
The world is your oyster – there are lots of ways to keep your brain active.
Hormone Replacement Therapy (HRT)
HRT can improve your sense of wellbeing, help you to feel better, and improve energy, concentration, and memory. It can improve physical and psychological symptoms that can interfere with brain function – for example, hot flushes at night that keep you awake.
You may feel anxious about taking HRT because of the well-publicised (small) risks, particularly of breast cancer. In reality, these risks are tiny for most women. Lifestyle factors, such as how much you weigh and how much alcohol you drink, can have a greater impact on your risk of breast cancer than HRT.
For most women, the benefits of menopause symptom control, reduction in risk of osteoporosis, and heart disease far outweigh any small risks.
You can find out more about HRT here.
Testosterone
This seems to be important for some women. Although it's not licenced for women, or for this specific purpose, it can be prescribed by a menopause specialist. Read more about testosterone here.
See a doctor
Talk to your GP if your symptoms are getting worse or worrying you. Brain fog can be a symptom of other medical conditions, such as thyroid disease, depression, cardiovascular disease, head trauma, abnormal blood calcium levels, liver disease, stress, and drug and alcohol abuse.
Low vitamin B6 and B12 may also play a part, as can some medications. Your GP can organise further investigations and management strategies if you need them.