What are menopause-related dental issues?
Menopause affects our bodies in so many ways – most of us have heard about hot flushes, night sweats, loss of sex drive, and vaginal dryness that can occur at this time.
But one of the most unexpected and unusual symptoms for many women is dental issues.
What causes dental issues?
Declining oestrogen levels contribute to loss of bone mass in the spine and hips and the jawbone. This raises the risk of getting loose teeth or even losing teeth.
Gum disease is another problem that can happen during menopause. Gums can deteriorate as a result of the loss of oestrogen. This can cause all sorts of symptoms, including:
Gum inflammation
Bleeding gums
Mouth and gum tenderness
Receding gums
Bad breath
Bite issues
Pain on chewing
Loose teeth
Infections
You may also start to experience a dry mouth during menopause. This can increase your risk of gum disease and cavities. When your salivary glands don't produce enough saliva to wash away oral bacteria, germs can accumulate inside your mouth, raising your risk for gingivitis and tooth decay.
How many women typically experience dental issues?
It's difficult to know how many women experience dental issues that are specifically related to menopause, but they do become more frequent at this time.
Are dental issues linked to any particular stage of the menopause?
If dental issues are due to a lack of oestrogen, they can occur at any stage of the menopause. This can continue into postmenopausal life, as the long-term effects of lack of oestrogen become more apparent, for example, in osteoporosis causing jaw problems.
How can dental issues be treated?
It's important to see your dentist regularly and book an appointment if you start to experience any of the symptoms listed above. If the dentist is concerned that you could have bone loss, they may refer you for further tests. Read more about osteoporosis here.
Most importantly, take good care of your teeth and gums. You can get specific advice about oral hygiene from your dentist, but keeping up a strict routine of brushing your teeth and flossing is a must. Other ways to treat dental issues include: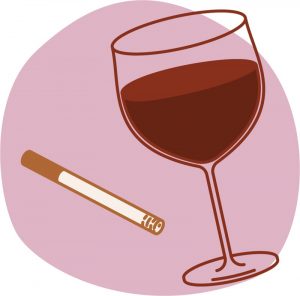 Stop smoking – smoking can cause dental issues and affect gum health. The NHS is a great place to start if you want to quit.
Avoid certain foods – sweet and acidic food and drink (including alcohol) can have a detrimental impact on your dental hygiene, so they're best avoided. More on dry mouth here.
Hormone Replacement Therapy (HRT) – this can potentially help with dental issues by keeping up your oestrogen levels. However, there is only limited evidence to support this and, as ever, the benefits and risks of HRT should be weighed up as to how they apply to you. You can read more about HRT here.
What next?
If you're worried about dental problems, you should see your GP or dentist. If you would like to discuss your symptoms in the context of the menopause (and you have been to your dentist), book an appointment with our menopause clinic.
If you think you may be experiencing symptoms of the menopause transition, you can learn more with our symptom checker or by taking our Menopause Questionnaire.
You can also find more information about the menopause transition at the British Menopause Society and the National Institute for Health and Care Excellence.