With more and more people turning to a vegan, vegetarian or pescatarian diet, whether due to lifestyle, religious or cultural reasons, this can have an impact on their choice of HRT: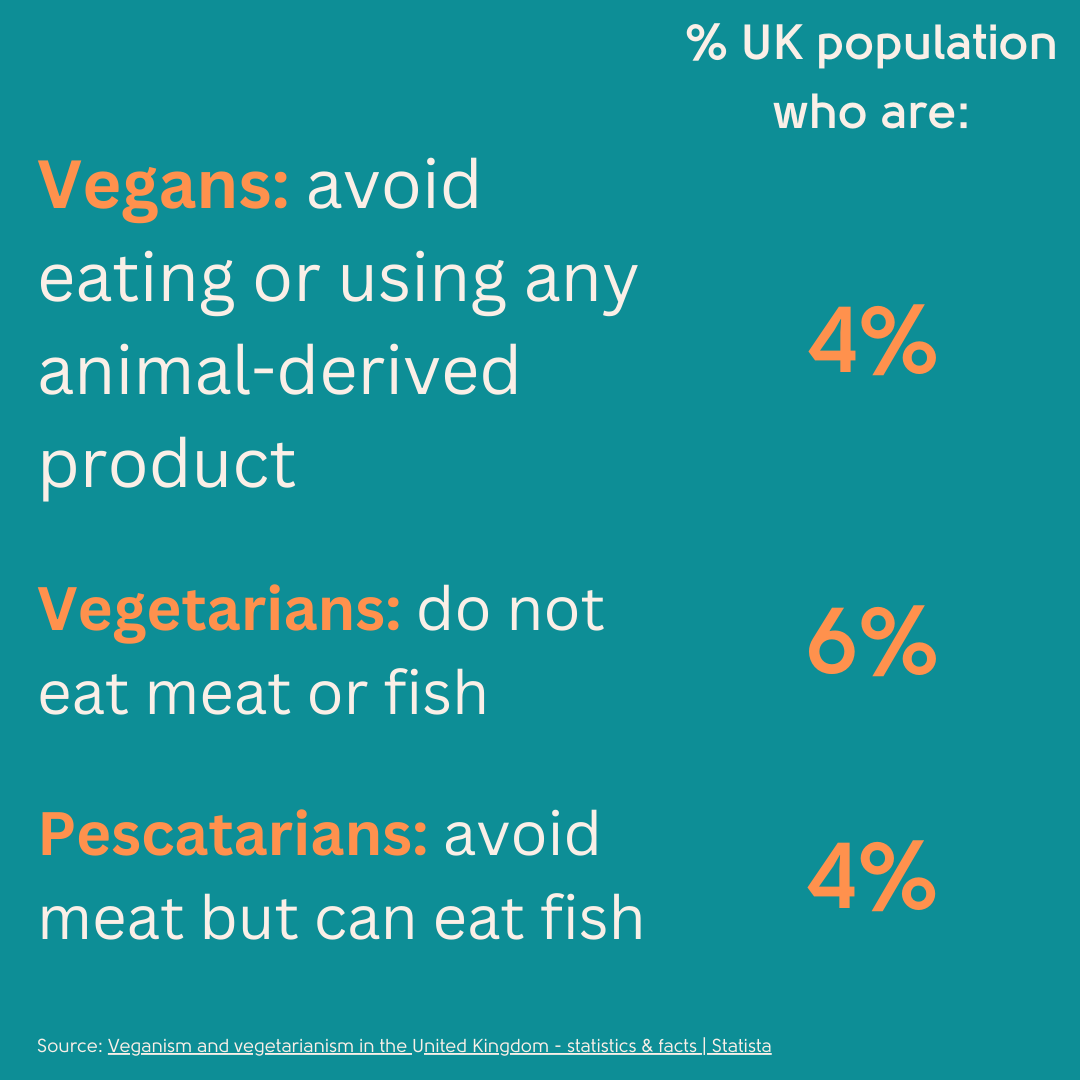 Source: Veganism and vegetarianism in the United Kingdom – statistics & facts | Statista
Helping you make an informed decision
Below is a review of the ingredients in the most commonly prescribed HRT products. Where the ingredients were unclear from the product information leaflet, we contacted the manufacturer for further clarification. It is worth noting however that while the ingredients themselves may be deemed suitable, most products are tested on animals as part of the safety-checking process.
We've included a handy table at the bottom of this patient information leaflet summarising which HRT options are/are not suitable for vegans and vegetarians.
What are the best options for HRT if you are vegan (and therefore good options for vegetarians too)?
If you have a womb, then you will need to take both oestrogen and progesterone (progesterone is needed to protect the lining of your womb). If you have had your womb removed (hysterectomy) then you will usually only need oestrogen. The progesterone arm of HRT can either be in its natural progesterone form or a synthetic progestogen version.
Oestrogen
Within the oestrogen range of transdermal products, a wide range of products are suitable for vegans and vegetarians:
the gels Oestrogel and Sandrena
the patches Estradot, Evorel, Progynova TS, Estraderm MX
the Lenzetto spray
There are currently no oestrogen-only tablets that are suitable for vegans. The tablet Premarin contains oestrogen derived from horses and is therefore not suitable for vegans. Other oestrogen-only options in the tablet form are discussed under the vegetarian section. 
Progesterone and progestogens
While the options for the progesterone arm of HRT are more limited if taken separately, there are still options that are suitable for vegans and vegetarians.
The commonly prescribed body identical micronised progesterone Utrogestan contains animal-derived gelatin (bovine), and so is unsuitable for vegans and vegetarians. However, vegan and vegetarian-friendly alternative versions of micronised progesterone are available as either a vaginal pessary called Cyclogest or a vaginal gel called Crinone. These treatments tend to be a little more expensive than the tablet form taken by mouth, and as they are unlicensed, they have less safety data to support their use in HRT. They are widely used in fertility treatments and are usually available privately and on the NHS.
Some women choose to use a Mirena coil for contraception and/or to provide the progestogen arm of HRT. Although the device itself does not contain any animal products, the inserter, used by the clinician at the time of insertion, does. The inserter is thrown away after use and is not left in the body. For those vegans and vegetarians for whom this may not be acceptable,  suitable alternative coils called Levosert and Benilexa can be used. While the use of these coils as part of HRT is unlicensed, it is supported by the Faculty of Sexual and Reproductive Health guidelines.
Combined HRT (oestrogen and progestogen)
The following combined patches are suitable for vegans and vegetarians:
Evorel Sequi, Evorel Conti, FemSeven Sequi or FemSeven Conti
These combined hormonal tablets contain gelatin, therefore they are not suitable for vegans or vegetarians:
Indivina, Tridestra and Bijuve
The combined oestrogen and progestogen tablets Prempak C and Premique contain oestrogen derived from horses and are therefore not suitable for vegans.
Vaginal HRT
There are a range of vaginal oestrogens available to help with vaginal and bladder symptoms related to the menopause transition. These are free of animal-derived products:
Ovestin cream, Blissel gel, Imvaggis pessaries and the ring called Estring
Another suitable vaginal product that is usually used in more severe cases is called Intrarosa and is based on a different hormone (dehydroepiandrosterone or DHEA). This does not contain animal products.
Testosterone
The other hormone that is sometimes prescribed off-licence to help with loss of libido is testosterone. All of the products that we currently prescribe for testosterone replacement are suitable for both vegans and vegetarians and this includes Testogel, Testim, Tostran and Androfeme.
What are the additional options if you are vegetarian?
Many types of HRT tablets contain lactose, making them unsuitable for vegans but suitable for vegetarians as they are able to consume milk:
Suitable oestrogen-only tablets include Elleste Solo, Zumenon, and Progynova
If you need both hormones but wish to take the progesterone arm separately, Lutigest pessaries – containing micronised progesterone – do not contain gelatin but they do contain lactose, so they are suitable for vegetarians but not vegans (

although this is an unlicensed form o

f HRT

). 

 Additional separate progestogen options include Provera and Norethisterone which are suitable for vegetarians
Suitable tablet forms of combined HRT (oestrogen and progestogens) include Femoston, Femoston Conti, Elleste Duet and Elleste Duet Conti, Kliofem and Kliovance, Trisequens and Tibolone
For vaginal and bladder symptoms a further localised oestrogen option containing lactose but otherwise suitable for vegetarians is Vagifem or Vagirux
What other options could you consider?
Depending on your beliefs, some women may feel that taking animal-derived products as medications may be acceptable to them if they are given for health reasons, or if there are no similar alternatives. However, the key to this is ensuring that you are fully informed so that you can make the right choice for you.
Changing the route of application may also change acceptability. For example, Utrogestan oral capsules can be inserted vaginally (off license) and there is evidence, albeit limited, that the womb lining is kept thin by their use in this way. This therefore bypasses the digestive system making it more acceptable to some women. While this is an unlicensed regime, it is endorsed by the British Menopause Society.
What can you do next?
If you are affected by the issues discussed and would like to discuss your food choices and how they affect your HRT, please speak to your healthcare professional or myself or one of the other doctors in My Menopause Centre who will be able to guide you further.