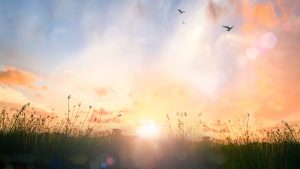 Mindfulness and meditation are the hottest things in the well-being world right now – ancient practices that can instill a sense of calm and perspective in this crazy, modern world. 
But, as many of us know only too well, the mere mention of them can feel like another stick to beat us with, a reminder of something else we're NOT doing in our busy lives.  We feel guilty, worn-down, and definitely not grounded. And we need that like a hole in the head.
So, what if we told you that they're actually really quick to master and that just a few minutes a day (yes, minutes) is all it takes to feel less stressed, more centred, and productive?
Trust us. It really is worth it. As well as lifting low moods and being a clutter clear-out for the mind, research shows that daily meditation can help with the physical side of the menopause, such as easing hot flushes.  
Here's everything you need to know about the practices, plus our pick of the best meditation and mindfulness apps to get you started. Trust us. They're the perfect way to squeeze self-care into your daily schedule.
Mindfulness and Meditation 101
Mindfulness is the art of focusing on the here and now rather than getting caught up in the inner chatter going on in your head or cruising through life on autopilot. The idea is if it's happened, it's happened, and why worry about the future because that's completely out of our control. Instead, 'being present' helps you gain perspective and feel more balanced. 
So, if you're making a cup of tea, that's all you're doing. You're not thinking about your daughter's missing gym bag, what you should have said to your boss in that meeting or whether it's bin day tomorrow. Instead, you're concentrating on the steam rising from your brew, the sensation of the heat through the mug, and so on. 
Meditation is one of the ways you can practice being mindful. By focusing on your breath and relaxing your body, you can tune out of what's going on in the outside world, staying instead in an internal quiet moment. Every time your mind wanders off, you just bring it back to your breath.
Let's get started
As they say, there's an app for that. Some are free, at least for part of the content, and they're an easy way to start meditating if you've never tried it before. And because they're apps, you can literally practice where you like, whether that's on a park bench before school pick-up or a packed bus on the way to work. Think of it as self-care at your fingertips. Who says they don't have time for that?!
Whether you're not sleeping well or feeling stressed, this is one of the most popular apps for quieting the mind and features daily guided meditations. One of our favourite features is its 'sleep stories'. Remember how a bedtime story helped you drop off when you were little? It still works, but instead of being soothed to sleep by your mum's reassuring voice, it's by the dulcet tones of celebrities like Cillian Murphy and Idris Elba. Dreamy – quite literally. Available for Android and IOS.
Is another major player that's makes incorporating mediation into your daily routine a breeze. Its simple design and quirky illustrations make it super easy to use. What makes it a bit different from many other apps are the life-themed guided meditations and breathing exercises which can help you with everything from relationships to financial worries. There are even walking meditations, perfect if you're seriously pushed for time. Give it a try for yourself and see why it's such a big hit. Available for Android and IOS.
While you've probably heard of Calm and Headspace, Insight Timer is a cult hit that's quietly attracting fans all around the globe. There are thousands of free guided meditations available, and you can select by the length of meditation, starting from a little as one minute (and we've all got a spare 60 seconds) or the type of thing you're interested in, such as mindfulness at work or improving your self-esteem. There are also some celebrity-led meditations too – from meditation-convert Russell Brand to the original hippy chick turned mental health guru Goldie Hawn. Available for Android and IOS.
This is a great app for creating inner calm and rediscovering a happier, more balanced you. It features a 'learn to meditate' section, guided meditations, music, and personalisation options. With meditations to help you overcome anxiety, get a good night's sleep and deal with stress, this is a good place to start your mindful journey. Available for Android and IOS.
If sitting quietly and focusing on your breathing doesn't appeal, then this app, with its relaxing sounds from the natural world, could be the answer. In the hubbub of the modern world, it's too easy to lose touch with the cues and rhythms of nature that help us relax, let go and sleep and this app aims to solve that. We're big fans of the rumble of summer thunderstorms, but you may find that it's the gentle rustle of leaves that works for you. It's the perfect way to create a precious moment of calm in a hectic day. Available for IOS.
Is there an app that's really working for you? Or maybe you've found a different way to fit meditation and mindfulness into your life? Either way, we'd love to hear from you. Comment below on our blog post, or get in touch via our social channels. Sharing is caring after all!