First, who did we speak to?
We believe that the menopause is everyone's business, so we spoke to both women and men:
Qualitative research with women who are going through or have gone through the menopause, the male partners of menopausal women, and with workplace managers.
Quantitative research with a nationally representative sample of 2,087 adults across the UK.
The menopause matters because it's a natural part of every woman's life
All women will experience the menopause. Currently, there are an estimated 15.5m[1] women across the UK who are in some stage of the menopause transition. Most of these women (8 in 10)[2] will experience symptoms – an average of seven – which usually last for 4-8 years but can last for up to 12 years.
But the menopause is still a taboo in UK society
The increase we are seeing at the moment in public and national conversations about the menopause is much needed, and very welcome. However, our research shows the long-standing menopause taboo is still very much in place: 47% of the public agree it is a taboo topic in UK society – rising to 72% of perimenopausal and menopausal women.
This taboo feeds directly into low knowledge and understanding of this phase in women's lives, including amongst women themselves: only one in four of the menopausal[3] women we interviewed feel – or felt – prepared for the menopause, and over half underestimated the physical and mental/emotional symptoms. As one of our participants explained:
"I don't think we speak about it actually. Menopause is almost like a bad word. I don't remember my mum or aunties talking about it. So no one ever knew enough."
In wider society, knowledge and understanding is even lower: 2 in 5 (43%) of the public agree they don't know much about the menopause and just a third (33%) say that they would know how to support a woman who is going through the menopause. This lack of knowledge, coupled with difficulties talking about menopause, has real-world impacts. The clear conflict between how the men we spoke to for this research handle their partners' symptoms (giving them space to deal with their symptoms) and what women told us is helpful (engaging and asking how they are feeling) was striking, and does no one any favours.
Low knowledge, lack of preparedness and the menopause taboo can come together to have a devastating impact on all aspects of a women's life
More than 8 in 10 (84%) of the menopausal women interviewed agreed that a woman's experience of the menopause can negatively impact her relationship at home, three quarters (77%) it can negatively impact her performance at work, and nearly half (46%) agree they feel/felt under pressure just to cope with the symptoms of the menopause.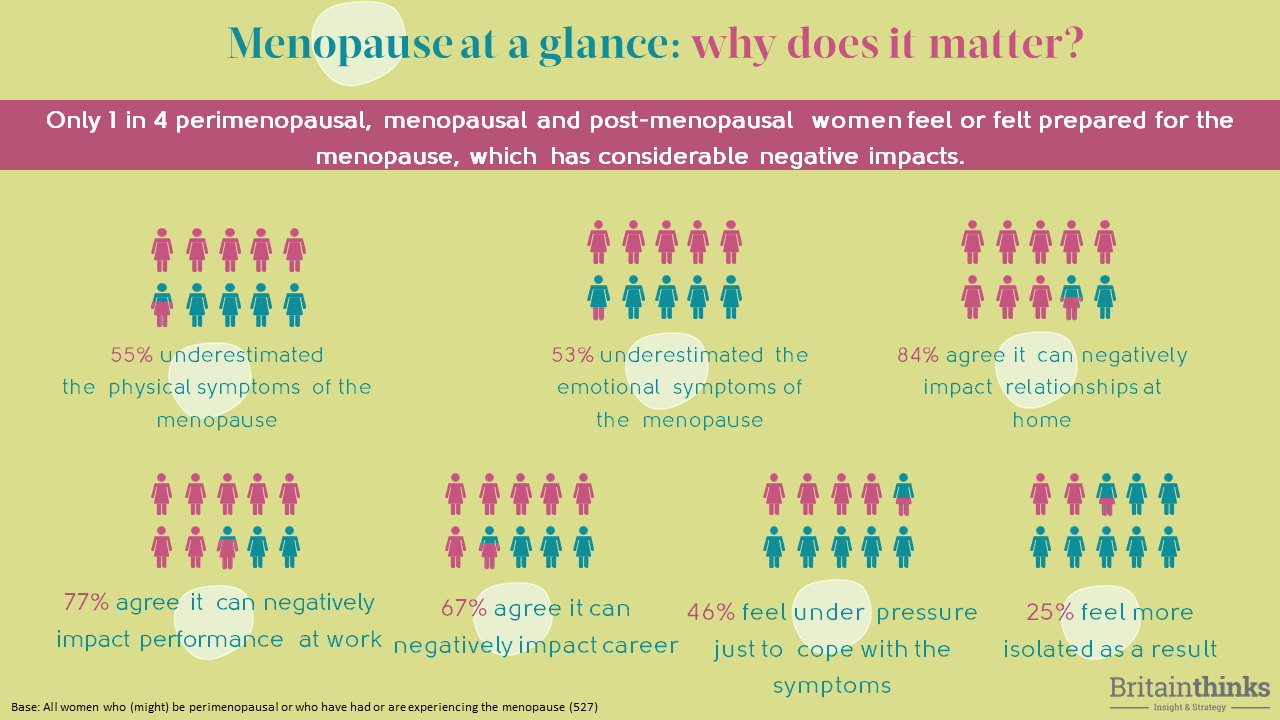 Ultimately, for some women, the cumulation of these challenges can lead to a loss of identity:
"It takes your confidence away. It took a lot of years out of my life when I wasn't the same as I used to be."
There is widespread agreement that there is not enough support in place
Fewer than 1 in 5 (17%) of the public agree that there is enough support in place for women who are going through the menopause. Our qualitative research uncovered that part of the challenge is that many women do not seek help for their symptoms. There are a range of reasons for this, from stoicism (their symptoms are not felt to be 'bad enough'), embarrassment (feeling reluctant to talk to their GPs especially if they are younger or male), and a perception that there aren't any available treatments anyway, to women who have sought medical care and felt dismissed by their doctors:
"Some 30-year old male doctor joyfully printed me off some info on how to prepare yourself for sleep. Dark room, no blue light. Gosh I could do this on my own. When I mentioned vaginal dryness to him, he went into a spin."
Furthermore, long-standing concerns about the safety of HRT mean that many dismiss it as an option – and one woman we spoke to who was prescribed HRT chose not to take it after being warned of side-effects by her friends.
It doesn't have to be this way: our research shows, unsurprisingly, that those women who are prepared for menopause have better outcomes
While only 1 in 4 women say they feel/felt prepared for the menopause, those who say they feel prepared are more likely than other women to say that menopause can be a positive change in women's lives and less likely to say they feel under pressure just to cope with the symptoms.
This finding highlights the importance of building knowledge of the menopause amongst younger women so that they're prepared for what's to come. At the moment over half (53%) of women aged 18 – 44 agree they 'don't really know much about the menopause', compared to 20% of women aged 45 – 64.
Menopause is everyone's business
But it's not just women we need to focus on. Men – whether at home or at work – also have a key role to play. With 67% of the men surveyed agreeing that the menopause is not an issue which affects them personally, it's clear there's a real need to raise awareness of the menopause, the impact that symptoms can have and the best way to support those going through it too.
Our manifesto for change
Drawing on this research, we have worked with BritainThinks to create a manifesto setting out what we believe needs to change to improve the experiences of the millions of women who are going through the menopause transition:
1. Reframe the menopause transition – it can be a time of positive change in life, particularly when you're prepared for it. To help women get there, we need to build knowledge and understanding of the stages and symptoms of the menopause, and the treatment options.
2. Encourage women to seek help for their menopause symptoms. To do this we need to tackle stoicism and embarrassment around symptoms and, importantly, bust the myths associated with HRT.
3. Ensure all healthcare professionals are educated about the menopause, so that when women do ask for help, they are fully informed and able to address all aspects of their treatment.
4. Make all workplaces menopause-friendly by developing and implementing a menopause policy, championing this from the most senior levels of the organisation so that it becomes embedded in the organisation's culture.
5. Make the menopause everyone's business by tackling the taboos around it and showing that it affects not 'just' the 50% of the population who experience it, but everyone around them… their families, friends, and employers. Educate, inform and engage everyone, men and younger women in particular, to drive real and sustainable change.
We'd love to know what you think – share your thoughts by leaving a comment on our blog post below, get in touch via our social channels or email us at hello@mymenopausecentre.com.
You can read the full research report here.
The Department of Health and Social Care is consulting on England's first Women's Health Strategy and has issued a call for evidence. You can ensure that your voice is heard by completing their survey here.