With holidays around the corner, festive invitations have begun to flutter in.  Cocktails, lunches, office dos, evenings out, evenings in, not to the mention actual Christmas Eve, Day and New Year's Eve…the list goes on, and for many of us, 'what to wear' panic begins to set in. The question is, how to channel easy party style (think Cate Blanchett, Helen Mirren and Iman) while working with curves we didn't have before, coping with (and possibly eating, yes, we love them too) the mountain of mince pies and sausage rolls, dealing with internal temperature changes (hi there hot flushes) as well as juggling the extra chaos and spend that end of year inevitably brings?
After much trial and error, we think we've nailed it. Here are a few (flexible) rules that have allowed us to keep our sanity and our style without blowing our budgets.
Choose your base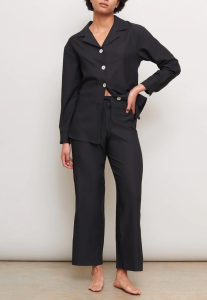 The key to a great night out? Comfort. For us, it's not the opposite of glam, in fact, it's the basic building block. We all know that terrible feeling of pinched toes orwaists, a zip that cuts in or a skirt that keeps rucking up because it just doesn't quite fit.  Hard to look or feel your best when your clothes are putting you through slow torture. When we dress for a night out, we start with a simple comfortable base that stretches to move with us and that allows us to laugh and dance the night away without worrying about wrinkly fabrics, painful feet or sweat patches.  Whether it's a cherished LBD or some of our Cucumber basics (our black drawstring trousers make a sublime background to just about any look) make sure what you are wearing feels great on.  If you feel great this will translate to both a smile on your face and you effortlessly looking your best whatever the occasion.
Flash some flesh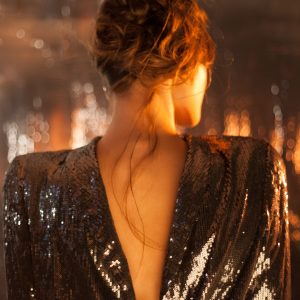 Perhaps unsurprisingly as theyears go by, we may develop a natural desire to conceal rather than reveal. Perky body parts that once effortlessly defied gravity may have begun to migrate, and a combination of festive feasting and hormonal changes may make us feel reluctant to experiment with the current trend of 'naked dressing'.  However, a clever glimpse of flesh in the dark winter months not only looks bang up to date, it can add a bit of mystery and allure.  We love the 'cold shoulder' look: try a silky, wide-necked top that slips casually off your shoulder. Lovely long neck? Show it off by refreshing a favourite v neck jumper or top, turning it back to front, with your hair up in a twist. Great legs? Try a long skirt with a generous slit, long boots and bare legs so just a sliver of thigh is flashed.Less is more, just a glimpse can give immediateglamour with little effort or cost.
Amplify accessories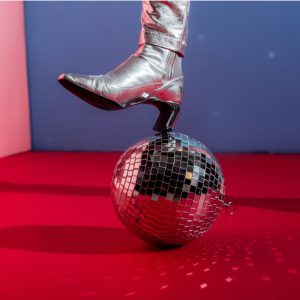 Double down on some special accessories to heighten your holiday look. Whether a sequin beret, this season's on-trend silver boots or some fabulous oversize costume jewellery pieces (charity shops often have a great selection), choose a few key pieces that can elevate your existing wardrobe without fuss. How about taking a t shirt and a favourite pair of jeans and transforming them by rolling them up to reveal the aforementioned silver boots, and accessorising with some oversize drop rhinestone earrings?  Instant party energy! Or use a simple pullover dress as a base and raise the bar with a slim metallic belt and an oversize starry wrap to set it off. Try tapping into the 'PJs as outwear' trend and choose a simple pair in black or cream, add in some uber comfy flat, feathery slides and a handful of cocktail rings and you'll be the most stylish (and comfortable) belle of the ball.
Get your glow on

Don't be scared to give yourself some Christmas glow. You can choose to go subtle or go large, shine around the eyes and cheeks can both shout or whisper 'party time'.  Simple to ramp up or down, we love toning our glitter with our outfit, think khaki with gold, winter white with silver, burgundy sparkles with crimson. With a plethora of make-up palettes out there, there is one to suit every mood and pocketbook. Love your lippy?  Give yourself an instant holiday look and an added bit of 'oomph' by slicking some gloss with metallic sparkles over your usual colour.  And make sure you make use of beauty counter experts, so many of them will give free 5-minute sessions to help you get the best out of your new shimmer. Four rules to help you navigate and truly enjoy the party season. Happy Holidays!
Our friends at Cucumber are offering an exclusive code just in time for the party season. Use HOLIDAY25 at checkout for 25% off. It is valid from 1st November to 30th December 2023. For more information head to www.cucumberclothing.com
Want to refresh your look in the New Year? Check out Eileen's tips for all-year-round great style here
Great hair is the the perfect addition to any part outfit and someone who knows all about that is Davina McCall. Steal her secrets
Want to slim down your menopause belly before Christmas? Try our nutritionist's tips