Many of the women we see in our clinic experience menopause symptoms such as incontinence and bladder issues or joint aches and pains and we often recommend they see a physiotherapist to help with them. That's why we're delighted to partner with PhysioFastOnline.
How PhysioFastOnline can help
Their online physiotherapy clinic can help to relieve common perimenopause and menopause symptoms. Their physios are experienced in women's health and can advise and treat a range of issues providing appropriate exercise regimes and lifestyle advice. These include:
Incontinence and bladder issues
Osteoporosis
Muscle and joint aches and pains
Obesity
Insomnia
Hot flushes
General wellbeing advice
PhysioFastOnline provides a safe place for you to discuss your concerns confidentially and their team will provide practical personalised help, tips and reassurance.
You can book online and attend an appointment from any device that has a camera.  Once you have chosen a time that suits you and paid for your session we will send you a secure link that connects you to your online physiotherapist.
All  of their physiotherapists are registered with both the Health and Care Professions Council, the physiotherapists equivalent to the GMC for Doctors, and the Chartered Society of Physiotherapists*. The Physiotherapists have been chosen because of their clinical experience in musculoskeletal (MSK) conditions gained from the NHS, private practice or from a variety of sports therapy settings.  All their physios require a minimum of 5 years experience of in providing MSK physiotherapy. 
*or the Irish equivalent of CORU and Irish Society of Chartered Physiotherapists
Struggling with some leakage mainly just on coughing and sneezing but was starting to worry me and affect me from exercising and I was not sure what to do. PhysioFast Online provided advice and information and exercises relevant to me. I had my own physio to guide me through. Now 10 weeks on much improved and have even braved returning to the gym!
Lisa 48
PhysioFastOnline Founder
PhysioFastOnline was founded by Katie Knapton, a chartered physiotherapist with over 30 years of musculoskeletal experience within the NHS and latterly in her own private practice in West Sussex. She trained at Kings College followed by 2 years at Guys Hospital. After that Katie specialised at St. Georges Hospital Tooting for 9 years working alongside Orthopaedic Consultants and running a team of physiotherapists in the busy hospital clinic setting.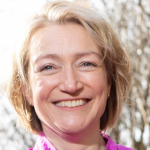 Katie has been in private practice since 2002 and is passionate about quality and ensuring people receive accurate information about their specific conditions to determine the best course of management for optimal recovery. This is one of Katie's key drivers for building PFO PhysioFastOnline.
To find out more or to book an appointment, visit their website here.
Or you can watch this video where Katie Knapton, founder of PhysioFirstOnline and chartered physiotherapist, tells us more about their online clinic and specialist women's health service: